Jump to Footer
SUNY Plattsburgh Communication Professor Dr. J. Justin Gustainis Pens New Urban Fantasy Novels
---
For Professor Justin Gustainis, 2011 was a banner year — not just in the communication department, where he's celebrating 29 years on faculty — but in the realm of fiction writing.
He's even caught the attention of Hollywood.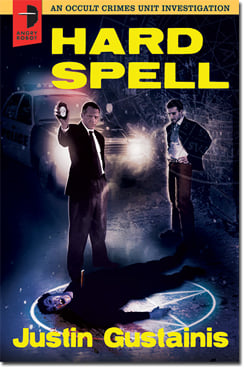 Gustainis writes in the genre now called "urban fantasy," stories set in current place and time but with a bent toward vampires, werewolves and zombies. In July, his novels, "Hard Spell" and "Sympathy for the Devil," were published — on the same day by two different publishers. An anthology he edited, "Those Who fight Monsters: Tales of Occult Detectives," was published last March.
Books of Cops and the Occult
Of the July 26 publication of the novels, he said, "It was just one of those weird coincidences. New books are always released on Tuesday, and each of my publishers independently picked July 26 as the Tuesday to release my novel."
"Hard Spell," published by Angry Robot Books, is the first in what Gustainis calls his "Haunted Scranton" series. Set in an alternative universe where the supernatural exists, vampires, witches, werewolves and other creatures of the night are accepted members of society. When they break the law, Det. Sgt. Stan Markowski, a member of the Scranton Police Department Occult Crimes Unit, handles the call.
Gustainis has brought back occult investigator Quincey Morris and his partner, white witch Libby Chastain, for "Sympathy for the Devil," the third novel in his Morris series, from British publisher, Solaris. This series has been translated into Spanish, French and Czech. This most recent installment has the duo on the trail of Sen. Howard Stark, a dark horse candidate for the Republican presidential nomination.
Hollywood Comes to Call
In August, Gustainis got word that Evan Katz, producer of such TV shows as "24" and "The Event," thought "Sympathy for the Devil" had potential for a cable TV series. The book was optioned, and Gustainis is waiting to see what develops.
"The odds are highly against any given work going all the way to production," Gustainis said. "To paraphrase: 'Many are optioned but few get a pilot; even fewer are ordered to series.' (But) it's always nice to be noticed by someone in Hollywood, and the option fee was pretty sweet."
His next book, "Evil Dark" — the second installment in the "Haunted Scranton" series — is due for release in April.