Jump to Footer
Gospel Choir's Annual Soulful Christmas Announces the Holiday Season
---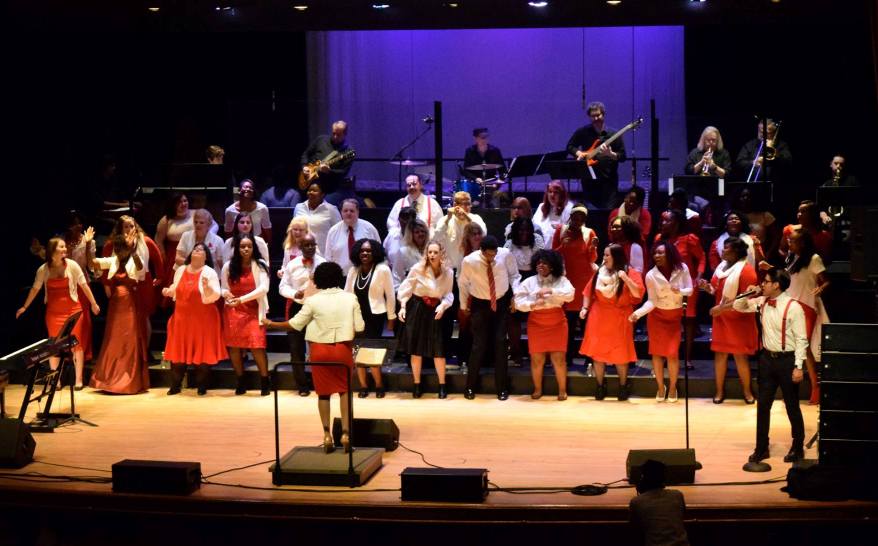 SUNY Plattsburgh's Gospel Choir presents A Soulful Christmas Celebration 2018 Dec. 2 from 4 to 6:15 p.m. in the E. Glenn Giltz Auditorium, Hawkins Hall.
Some selections to be presented this year are "Joy to the World," "A Christmas Wish," "Go Tell it on the Mountain" and "Anthem of Praise." This year will feature both old and new soloists as well as the Praise Dancers, Step Team and Praise Team. The melodies will be created by Jeff Wheel and the eight-piece gospel band.
The Keene Central High School Chorus will be special guests, performing outside of the school district for the first time and accompanied by Keene Central music teacher, Lynn DeWalt.
The pre-show performance will feature the Whiteface Methodist Bell Choir.
The SUNY Plattsburgh Gospel Choir's sound is a fusion of traditional gospel, urban gospel, contemporary Christian music and European aesthetics combined with Caribbean and Afrocentric rhythms and spiritual overtones.
Student admission is $8 through Dec. 2 and $10 at the door. These prices are also offered to Clinton Community College and K-12 students. General admission is $15 through Dec. 2 and $20 at the door. Children age 5 and under get in free but must be willing to share a seat with an adult.
Tickets can be purchased at www.plattsburghstategospelchoir.org or at the door on the day of the concert. The box office opens at 3 p.m. Doors open at 3:30 p.m.
For more information, call 518-564-2704 or [email protected].