Jump to Footer
Frisbee Golf Course Open Behind SUNY Plattsburgh Field House
---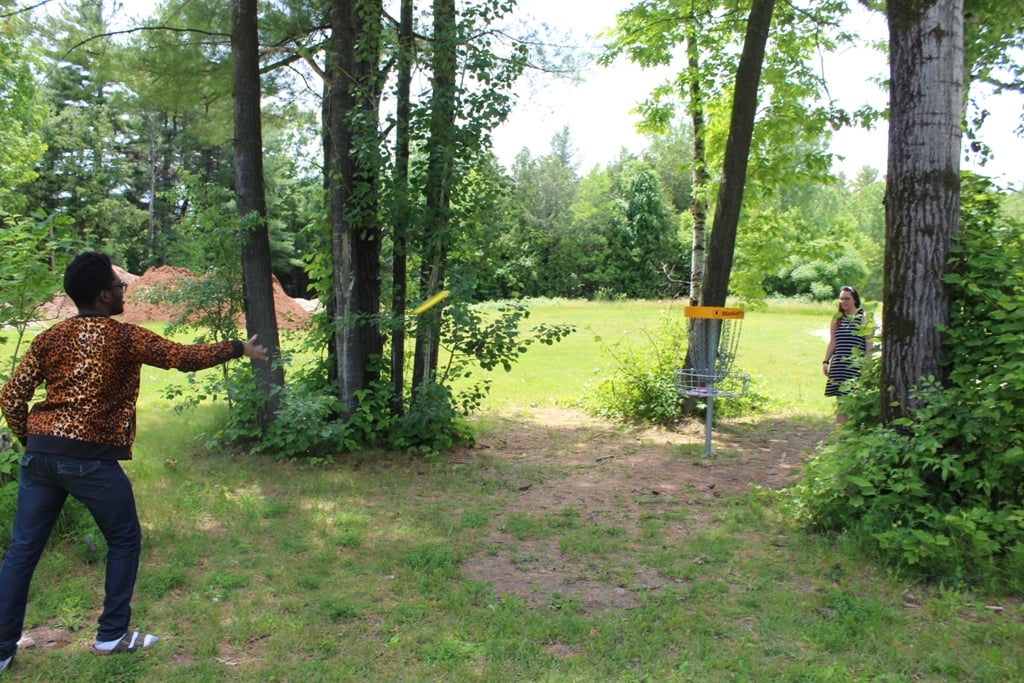 Campus and community members looking for a free outdoor activity where even the equipment is provided need look no further than behind the SUNY Plattsburgh Field House.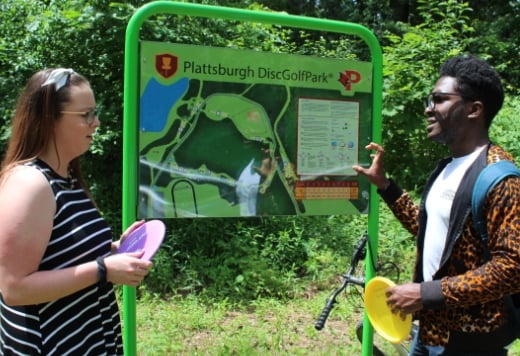 A nine-hole, par three Frisbee golf course has been designed in the fields behind the field house, starting just south of the parking adjacent to Temple Beth Israel, wrapping around the service road, along the river, beside Chip Cummings Field and back out to the parking lot to the west of the field house.
Frisbee golf "holes" — the recognizable chain-and-metal baskets with yellow toppers — can be seen placed strategically along the course, which came together last November, said Karen Waterbury, director of recreation and club sports at the college.
Created by a course designer in Vermont, Waterbury said it was constructed by members of the college's Maintenance and Operations crew.
"It was designed to be cohesive with what is already back there," including Chip Cummings Field, cross-country trails and the outdoor wildlife lab area used by Dr. Danielle Garneau, associate professor in the Center for Earth and Environmental Science.
'Nice Design'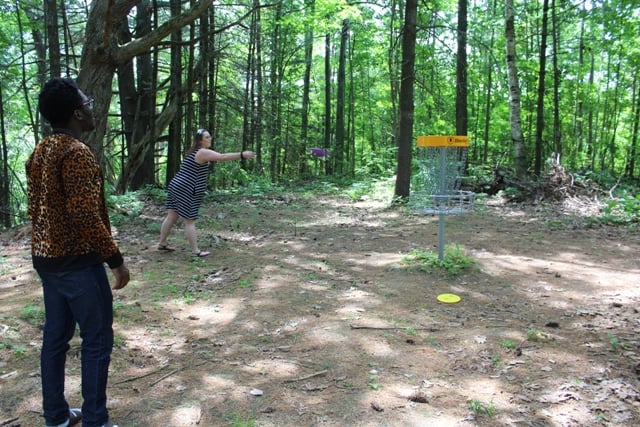 "It's nestled into the trees. It's a nice design," Waterbury said.
Waterbury said that diehard Frisbee golfers usually have their own equipment, but those who don't, or novices who just happen upon the course while walking their dogs, for instance, can borrow the college's equipment, which will be kept in a storage box at the first tee along with pencils and score cards similar to what you might find at a mini-putt.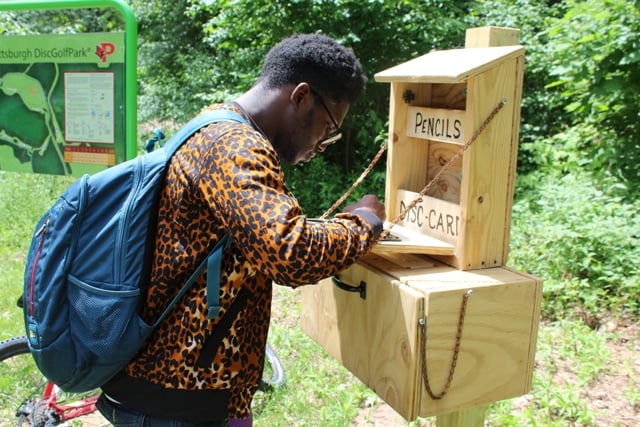 "It's the honor system," she said of borrowing equipment. Until a more substantial storage unit is built, folks can borrow equipment from the storage space in Memorial Hall if there are no disks in the box at the first tee. "We just ask that people return the equipment when they're finished with it."
Danielle Dubay, a sophomore English major from Keeseville, and Amanogho Ugbodaga, a senior psychology and English major from Nigeria, checked the course out one sunny day at the end of June.
"I didn't know it was back here, Ugbodaga said. Dubay concurred.
"I had no idea, but it's really nice. I'm going to come back when the semester starts," she said.
The two tried a couple holes and said how they could see it would be a fun activity with friends or a campus group.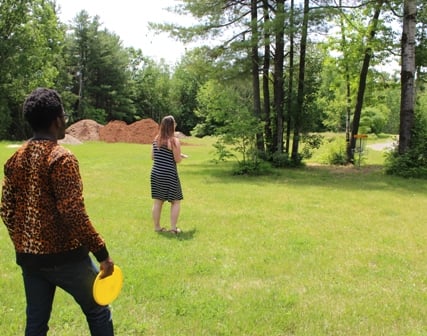 "It's in a beautiful area," Dubay said. "It's a nice day to walk around back here."
Outdoor Activities Added
Waterbury said she's been trying to add more outdoor activities to campus. The department had an outdoor volleyball court built behind Memorial Hall; it lends bicycles and other equipment to students during the school year, but she said she's always looking for other opportunities, especially those that can bring community onto campus.
"There's only so much you can do with indoor spaces," she said. "We're doing what we can to promote outdoor activity. The trails back there are beautiful; the eco-system back there is beautiful. Frisbee is an outdoor and family-friendly sport. I want the public to use it; I know they're going to use it."
For more information, contact Waterbury at 518-564-4150 or email [email protected].