Jump to Footer
First in Online Series on Free Speech, Responsibility Focuses on Voting
---
The voting process, the politics and the importance of making voices heard was the focus of an Oct. 7 online Zoom event, the first in a series on free speech and responsibility.
"Why Vote?" was the kickoff of nine events in the B.R.A.V.E. (Brave, Resilient, Amplified Voices for Equity-mindedness) "Free Speech and Responsibility Conversations" series for SUNY Plattsburgh students, faculty and staff.
The session, organized by the SUNY Plattsburgh Diversity, Equity and Inclusion division and the President's Inclusive Excellence Council, was created in collaboration with staff, faculty and students.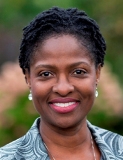 During this and subsequent B.R.A.V.E. Space events, campus community members are invited to speak, listen and learn about a variety of topics to create an environment where they can thrive, be successful and move forward together. The series is also set to encourage community members to exercise their right to free speech in a responsible and respectful manner regardless of the topic.
"Our campus community members need to be inspired to have courageous conversations regardless of their perspectives," said Dr. Michelle Cromwell, vice president for diversity, equity and inclusion.
Wednesday's "Why Vote?," moderated by Cromwell, featured from political science:
Raymond Carman, associate professor
John McMahon, assistant professor
And from community living:
James Sherman, assistant director, community living
Francine Francis, community empowerment coordinator, community living
James Sherman, assistant director, community living
Tylea McCarthy-Walker, community director, community Living
Also featured was Diana Wardell, co-president, League of Women Voters of the North Country.
The next session, "Fear About and After the Election," will be held Wednesday, Oct. 21, followed by "Hurting Differently; Healing Together" Wednesday, Nov. 4. The last session of the semester will be "Moving Forward Together While Polarized" Wednesday, Nov. 18.
"B.R.A.V.E. Space: Free Speech and Responsibilty Conversations" will continue with different topics beginning Jan. 7 and continue to run twice a month through March 3. For more information, contact Diversity, Equity and Inclusion at 518-564-5410 or email [email protected].