Jump to Footer
Family Weekend Features Whole Host of Activities, North Country in the Fall
---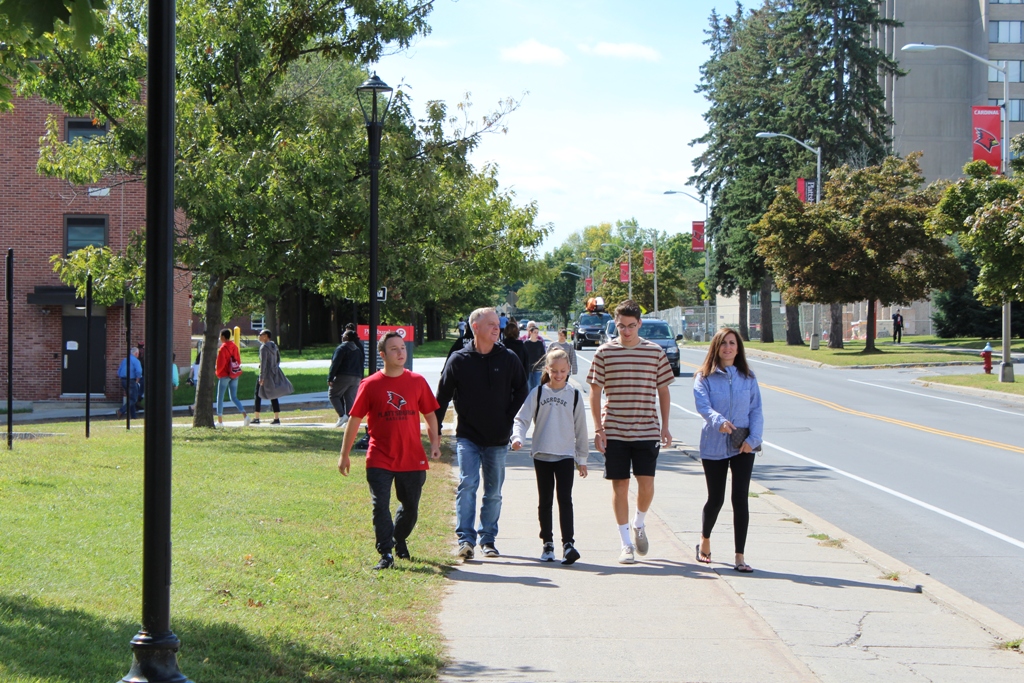 Parents and families coming to campus Sept. 20-22 will find a full slate of activities and programs as part of SUNY Plattsburgh's annual Family Weekend.
Organized by the Center for Student Involvement, the weekend begins Friday from 4 to 7 p.m. with registration in the Angell College Center. There, families can check in, pick up reserved tickets and a schedule of events and suggestions for things to do in the North Country.
Theater Friday Night
Friday night, families can attend the Black Box Theater production of "White Room of My Remembering," the story of two women who come to put a childhood home up for sale. One of the women begins a series of conversations with herself as a young girl and with the dead parents. Curtain is at 7:30 p.m. Friday and Saturday. Tickets are $8 general public, $5 faculty, staff, seniors and alumni, and $3 for SUNY Plattsburgh students and are available online at https://plattsburgh.university.tickets.com.
Later, join a game of Bingo in the Sundowner, Angell College Center, beginning at 9 p.m.
Registration picks back up Saturday in the ACC lobby at 9 a.m. Afterwards, join the Sorority Association for a free pancake breakfast in the Sundowner. Donations welcomed for St. Jude's Children Hospital.
If running is your family activity, the Center for Student Health and Psychological Services is sponsoring a three-mile fun run/walk beginning at 9:30 a.m. with sign-ups beginning at 9 in the lobby of the Student Health Center. Meet in the Student Health Center parking lot.
Cardinal Soccer
Sports fans can cheer on the Cardinal men's soccer team as they meet Clarkson University at 2 p.m. on the Field House soccer complex. Stick around the Field House and go ice skating at 3 p.m. in the Stafford Ice Arena.
After dinner at any of the area's restaurants — families can ask for suggestions at registration — or in Clinton Dinning Hall with their students, they can catch a musical comedy routine, "Dueling Pianos," beginning at 8 p.m. in the Warren Ballrooms, Angell College Center.
Family Weekend wraps up at 10 a.m. Sunday with the Presidents' Lakeside Breakfast Buffet at Valcour Inn and Boathouse, overlooking Lake Champlain and Valcour Island, the site of the first major naval engagement of the American Revolution. Breakfast is hosted by college administrators and Essence Hightower, president of the Student Association, with student musical accompaniment. Advance reservations and tickets are required. Space is limited.
'Perfect Time to Come to Campus'
"Family Weekend is the perfect time for families to come to campus," said Cori Jackson, assistant vice president for student life in in enrollment and student success and director of the Center for Student Involvement.
"Students have had a few weeks getting to know campus and getting settled in their routines so they can show their family members around, point out where their classes are, show them their residence hall, maybe eat in Clinton Dining Hall. The North Country is beautiful in the fall, so there are plenty of opportunities for families to explore the area, maybe go apple picking or take a drive up to Lake Placid. And it's a perfect break between the start of school and when most students return for the first time over Thanksgiving break," she said.
For a detailed schedule, suggestions for things to do in the area and where to stay, visit https://www.plattsburgh.edu/parents-families/family-weekend.html.