Jump to Footer
Faculty, Staff Prepare for a Virtual Campus Experience
---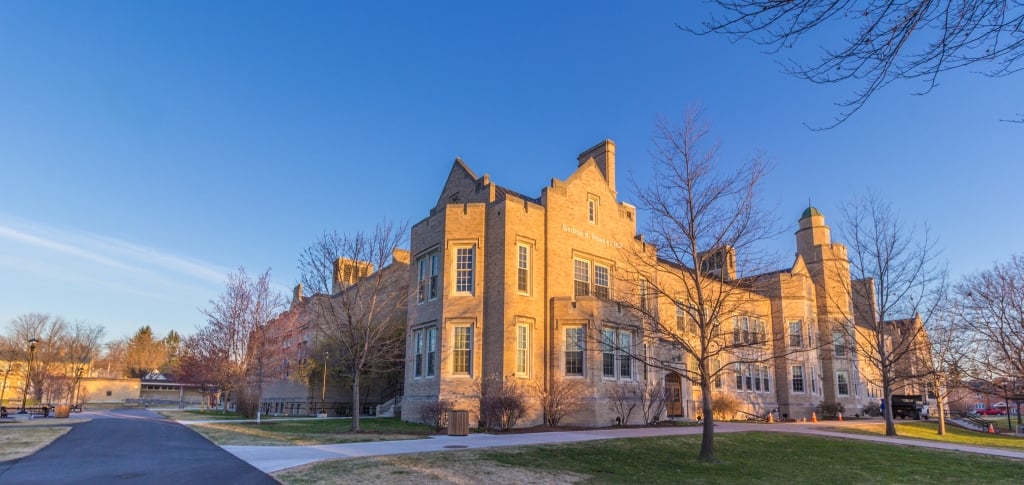 Faculty and staff at SUNY Plattsburgh have been readying for the virtual return to classes Monday, March 23, preparing online and remote classes as a precaution to prevent the spread of the coronavirus.
From accounting to TV-video production, the new normal for the remainder of the semester is maintaining distance while maintaining the integrity of the college's dedication to student success.
"It has been so impressive to see how everyone is stepping up to meet this challenge and serve our students," said JoAnn Gleeson-Kreig, associate vice president for academic affairs. "People are learning new teaching tools, providing students with the support and reassurance they need and just generally pulling together."
Gov. Andrew Cuomo on March 11 directed all SUNY and CUNY schools to "move to a distance-learning model for the rest of the semester. This will help reduce density and reduce the spread of this virus," he said.
SUNY Plattsburgh immediately notified students, faculty, staff and parents of the plan to move to distance learning. Questions arose about how the college would function, which services would be curtailed, what buildings would remain open. President Alexander Enyedi held two virtual town halls — one aimed at faculty and staff and the other for students — and answered as many questions as possible in the time allotted. Current news and information on COVID-19 and SUNY Plattsburgh can be found at www.plattsburgh.edu/coronavirus.
To address students' needs for computer access, Library and Information Technology Services staff created a 200-seat remote computer lab that will be available to students 24/7 and can be accessed securely using their campus login credentials.
"The library and technical staff and faculty in LITS have always been committed to supporting the college community and delivering high quality teaching, services and support, so I am not surprised by the way they all shifted into overdrive to assist at this time," said Holly Heller-Ross, LITS dean. "Not surprised by their efforts and commitment but so immensely grateful and in fact astounded by what they have been able to achieve for our students and faculty. Almost everything we do was moved online if possible."
Support for new work that has to be done by faculty and students, such as equipment loans, remote software access, last-minute network configurations, library research and more, "was and is being reconfigured for this new reality," Heller-Ross said. "We will continue to do what we can and bring all our collective creativity and skill to that effort."
Casey Henley, assistant professor and head of climbing and skiing curriculum in expeditionary studies, had a particularly challenging task.
"This is a difficult time for sure," Henley said. "We are doing what we can to offer what is feasible and makes sense. We are doing some online classes and also self-directed field classes with reporting/journaling/videos/papers required, but there are classes we cannot offer because of risk management. It's like offering nursing IV classes/surgery with no supervision. It's simply not possible to deliver online when people are dealing with highly consequential avalanche slopes, mountain terrain, whitewater, surf and exposed clifftop anchor building. I miss my students and the classes I deliver already."
Dr. Donald Slish, professor in biology, has online teaching experience, having taught his pharmacology for recreational drugs class online more than 10 years.
"I plan to do the same kind of things I did there," he said. In a letter he sent to his students, Slish outlined his plan to complete the course via Moodle, an online educational platform. But unlike teaching face to face, when Slish can often tell when his students are lost or not understanding concepts, "that's not going to be possible now," he said. "I need each of your to speak up if you are lost. Asking questions is going to be a key part of the class from here out. We need to help each other. You help me understand what is not clear and each other by being the brave person who stands out."
Dr. Lauren Eastwood, associate professor of sociology, wanted to emphasize two things — in addition to flattening the curve.
"It is crucial that (her students) keep the lines of communication open. If they drop off the map, I will worry, and I won't know if they're able to do their work," Eastwood said. "I also told them — that I wanted to really highlight — is that it is not a case of 'making our classes into online classes.' Students have a ton of anxiety about not doing well in online formats. This makes sense to me.
"However, I expressed to my students that things were likely to get much more individualized. I would have chat sessions with them if need be; some one-on-one sessions on the phone or Google hangouts, and I would walk them through anything," she said. "This is uncharted territory, but as we move forward, we need to keep in mind the need to balance academic integrity and standards with flexibility."
She said she wants her students to understand that "things are changing so fast — I don't know what lies ahead for my students, and there will likely be a range of issues that I can't anticipate, and neither can they."
Dr. Michelle Bonati, assistant professor of teacher education, regularly integrated educational technology to model the practice for future teachers, she said.
"These educational technology tools will now support their continued success online," Bonati said. "One important educational technology I'll be using is Flipgrid, which is a free app where students can respond asynchronously via video clips. This will provide a way to maintain the community we have developed in our classes and a great way for students to continue to engage in discussions about current course content.
"I have created web links to these video-based discussion boards on my course Moodle pages, as well as an option to participate solely via written response for students who may have limited internet access or data plans for video," Bonati said. "Students are also very accustomed to using Google Slides and Google docs, which will support their continued collaboration on learning activities. I know my colleagues in education are busily developing resources and plans to support our students. Along with everyone's health, it is our top priority."