Jump to Footer
Faculty, Staff, Alumni Rise in Support of Student Success
---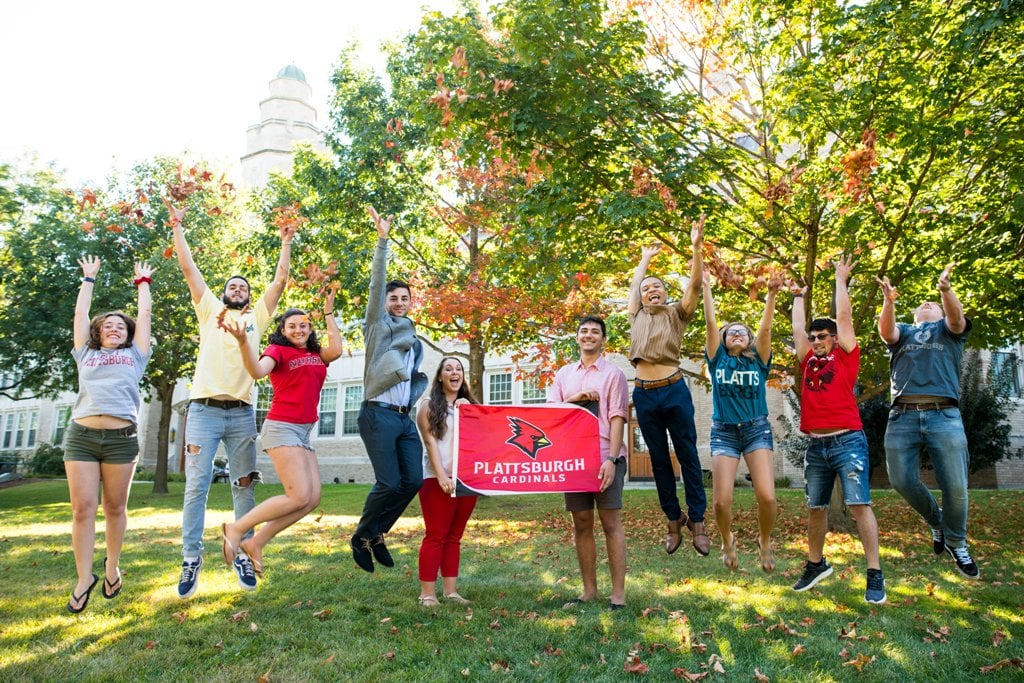 Rise Up Red, SUNY Plattsburgh's fiscal year-end campaign, has surpassed a $25,000 matching gift challenge by more than $2,000, and there's still three days left for Cardinals to soar even higher.
Every gift, no matter the size, to the Plattsburgh College Foundation, helps students prepare for lives of leadership, intellectual achievement, personal growth and global competency. The Rise Up Red challenge was put forth by alumni couple and longtime supports of the college — Tom '70 and Marie '72 Hermes — who issued the matching gift challenge last year as well. This year's challenge has already brought in $27,514.
"After a challenging year, we are filled with Cardinal pride as the Cardinal community, once again, came together to Rise Up Red in support of our students," said Paula Bachman '06 G'08, associate director of annual giving. "There is no doubt about it — we soar higher, together."
The Rise Up Red campaign funds the unrestricted Plattsburgh Fund. From that comes student scholarships and need-based grants, diversity, equity and inclusion programming and support, emergency grants and experiential learning opportunities such as internships.
The foundation's annual Count Me In campaign's 2020-2021 goal is 360 SUNY Plattsburgh employees, whose participation has so far brought in more than $72,000 in funding that directly benefits students.
"With three days left in the campaign, we only 11 people away from hitting our goal," Bachman said.
The Count Me In! campaign is the foundation's effort to raise not just funds but faculty and staff awareness about the impact of philanthropy on student success. During the pandemic, the need for faculty and staff support has never been greater, and so many rose to the challenger, whether through regular check-ins with students, creating virtual alternatives to the traditional Plattsburgh experience, buddying up with students in isolation, assisting students at pool testing and more.
Because of the generosity of SUNY Plattsburgh's faculty and staff, the college is a leader in the SUNY system for annual giving participation.
"This says a lot about our campus community and our passion for the work we do to serve our students," Bachman said.
A new initiative this year is the Dr. Michele Carpentier Endowed Scholarship Fund, named for the long-time director of special services — including Student Support Services — and vice president for student affairs — now enrollment and student success — who has cared for students as an advocate, supportive leader and powerful mentor since 1987.
The scholarship was created by Bryan Hartman '88, retired vice president of student affairs, and Andrew Gage '87, senior director of sales administration at Multivac Inc., to honor Carpentier '77 G '87 CAS '87. Hartman and Gage made the initial gift of $25,000 with the intention of inspiring other alumni, faculty, staff and friends to make a gift in Carpentier's honor.
"Specifically, they encourage alumni whom Michele assisted during their time at SUNY Plattsburgh to pay it forward and help future generations of students achieve their degrees," Bachman said.
Gifts to the Michele Carpentier Endowed Scholarship will provide support to students who have the ability to succeed academically but who lack the financial resources to stay enrolled and graduate. When selecting Michele Carpentier scholars, special consideration will be given to low-income, first-generation students who are challenged with circumstances out of their control.
"Over the years, Michele has adopted many Cardinals and done everything in her power to ensure her kids can achieve their educational dreams," Bachman said. "At this time, we invite Cardinal alumni, faculty, staff and friends to adopt a Cardinal by making a gift in her honor."
The Carpentier scholarship will exist in perpetuity, the income from which will provide annual support to future generations.
Count Me In and Rise Up Red continue through June 30. For more information, visit plattsburgh.edu/riseupred and plattsburgh.edu/countmein; for information on the Michele Carpentier Endowed Scholarship Fund, visit alumni.plattsburgh.edu/celebratemichele or call the Plattsburgh College Foundation at 518-564-2090.