Jump to Footer
Expert Meets with Campus Community to Assess, Offer Solutions to Mitigate Racial Trauma
---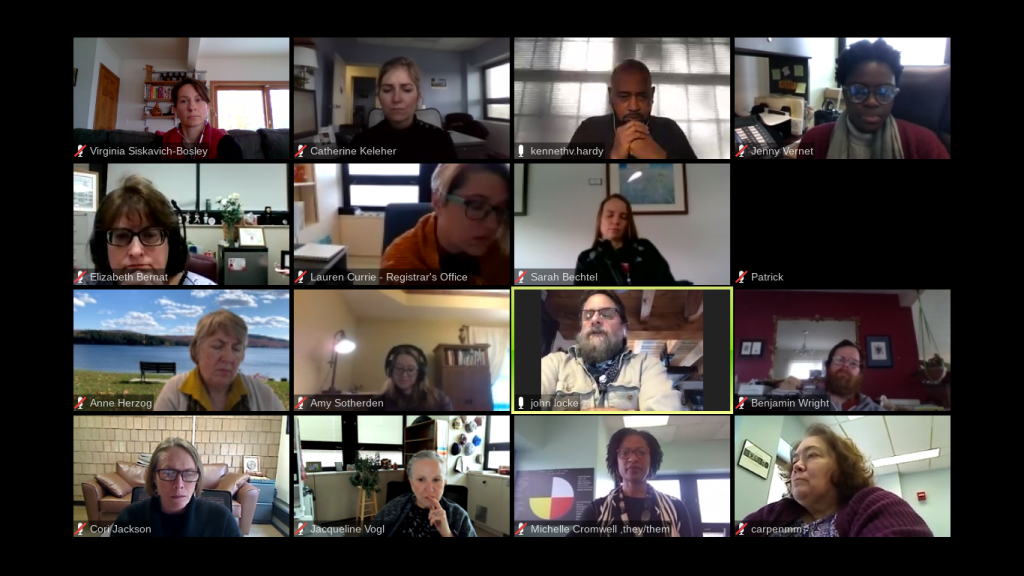 World-renown racial trauma practitioner Dr. Kenneth Hardy spent the day with students, faculty, staff and administration Nov. 2 helping them identify racial trauma within the SUNY Plattsburgh community.
Hardy, director of the Eikenberg Institute for Relationships in New York City, presents workshops and provides consultations nationally and internationally on issues of diversity, multiculturalism and cultural competency. He is also a professor of family therapy in the College of Nursing and Health Professions at Drexel University, Philadelphia, Pa.
Hardy visited the college via Zoom, reaching more than 200 campus members as part of the division of Diversity, Equity and Inclusion's "Breathing Room: Creating a Space to Metabolize Racial Trauma."
"The day provided an opportunity for community members to have a zone of safety and community for us to openly discuss the everyday challenges of being Black, Indigenous People of Color in white spaces," said Dr. Michelle Cromwell, vice president for diversity, equity and inclusion. "We also had the opportunities to model and try out ways of being and doing that make us racially sensitive, which breaks the silence and signals to BIPOC community members that we are doing what is needed to become just and equitable."
The sessions will assist the campus to "move forward with direct and targeted action plans to build a more equitable and just community," Cromwell said.
Cromwell and Jenny Vernet, diversity, equity and inclusion program coordinator, facilitated the gatherings, introducing Hardy to the "room," explaining how participants can talk about "the trauma we've experienced, the incidents we've experienced but didn't talk about, acknowledge or address."
"I'm imagining all of you probably agree that trauma is a fairly regular and predictable visitor in our lives, irrespective of race," Hardy said. "Each of us probably has a story that incorporates some exposure to trauma we've had directly or in proximity to it."
Much of this trauma takes place within the context of our families — abuse, neglect, substance abuse, he said, noting there is a dimension of trauma we don't talk about and rarely recognize — racial trauma.
"If ever there was a time to highlight the significance of racial trauma, this would be it," he said. "With the backdrop of the election, the ways in which we're living in rabid racial divisiveness, and the murders of black and brown bodies in several cities in the United States and beyond, all of which are painful reminders of this condition that impacts our lives," he said.
Hardy encouraged white participants "to see what you didn't see before and what you thought, your reflections about yourself as white people you've heretofore never had."
For people of color, he encouraged them to share how COVID and the murders of George Floyd and so many others "and experience you've been exposed to — what scabs have been removed, and what it's like to be a student where you are."
Throughout the day and into the evening, BIPOC shared their experiences with racial trauma, and white people asked what they can do better to support and be allies to People of Color.
Hardy shared a five-step process required to promote racial healing and address racial hurt and injuries.
"It's part of why race is such a powerful issue in the broader society," he said. "Our society has not provided a context for healing. You can't have the types of travesties and terrorism that's happened and then say, 'Why can't we all just get along?'"
The first is acknowledgement. "Any incident first requires acknowledgement. How does the system say to people of color, 'We want you to know that we know that harm has been done.'? That's acknowledgement."
The second is validation. "We know harm and hurt have been done. The way you see it and the way you say it is the way it is. There should be no effort to rewrite it or tweak it by others."
The third is direct, targeted action. "'We as an institution, are pledging to you, members of our community of color, that this is what we are going to do to remediate the hurt and hurts of this magnitude.' There are no caveats. No task forces, no 'We hope to do this…' We say this is what we pledge to do."
The fourth is an apology. "Usually, whenever there's harm, we start with an apology. That's well-intentioned, but it skips over all the other steps."
The fifth and final step is the request for forgiveness. "Recognize that this may not happen right away or before you leave campus, but we are making this request nonetheless."
"If you accept these five steps, where are you along this continuum?" Hardy asked. "We're not even in the midst of the acknowledgement phase in this country."
"Breathing Room: Creating a Space to Metabolize Racial Trauma" was made possible through funding from the Plattsburgh College Foundation. For more information on this or other programs from Diversity, Equity and Inclusion, contact 518-564-5410 or [email protected].