Jump to Footer
SUNY Plattsburgh Cross Country/Track Trio Honored for Athletics and Academics
---
In June, SUNY Plattsburgh led all NCAA (and NAIA) institutions, regardless of division, with three student athletes on the ESPN The Magazine Academic All-America Women's Track & Field and Cross Country Teams, as selected by the College Sports Information Directors of America (CoSIDA).
Seniors Allison Busby, Toni Wiszowaty each made the College Division Second Team while Alyssa Recny placed on the Third Team. It's the highest awards program offered by CoSIDA, recognizing student athletes' abilities to balance excellence both in the classroom and on the field of play as well as recognizing community service efforts.

Climbing the SUNYAC Ladder
The three CoSIDA Academic All-America citations mark the most in a single academic year for SUNY Plattsburgh, which has now produced seven winners for fourth all-time in the State University of New York Athletic Conference. Before this year, men's hockey player Niklaus Sundberg in 2002 was the last Cardinal to earn this award when he was named second-team Men's At-Large.

Meeting the Criteria
To be eligible, a student athlete must be a varsity starter or key reserve, maintain a cumulative grade point average of 3.20 on a scale of 4.00, have reached sophomore athletic and academic standings at his/her current institution and be nominated by his/her sports information director. Since the program's inception in 1952, CoSIDA has bestowed Academic All-America honors on more than 14,000 student athletes in Divisions I, II, III and NAIA covering all NCAA championship sports.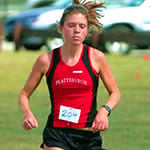 Allison Busby
Busby (New Paltz/Vestal Seton Catholic High School) was a second-team academic all-district choice as a junior before jumping to the first team this season and receiving national consideration. She earned All-America honors with an 8th-place finish last fall after helping the Cardinals to the national runner-up trophy at the NCAA Division III Cross Country Championships. She was a 10k outdoor NCAA provisional in track. She carries a 3.94 overall GPA as a nutrition major, winning the 2008 Richard D. Semmler Award to honor the highest GPA for a female senior student-athlete at Plattsburgh.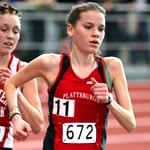 Toni Wiszowaty
Wiszowaty, of Shirley (William Floyd HS), was ranked No. 1 in the nation in the 10K and No. 3 in the 5K, but couldn't compete in the NCAA Outdoor Track Championships due to injury. She won the 10K race at the famous Penn Relays in 33 minutes and 57 seconds that set an Olympic Trials "B" standard, SUNYAC and school records and ranks in the Top 5 all-time for Division III. A 2008 NCAA Woman of the Year nominee, the six-time All-American captained the cross country team to its best NCAA showing in school history, placed second at the regional meet and helped the Cardinals to their first Atlantic Regional title. The elementary education (English) major has a 3.95 GPA, and was an Oak Street Elementary School Mentor in Plattsburgh this year.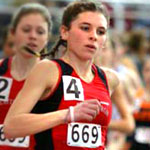 Alyssa Recny
An AuSable Valley Central High School graduate from Keeseville, N.Y., Recny is a two-time All-American this academic year after taking 25th place at the Division III cross country meet and winding up fifth in the NCAA 10,000-meter run for outdoor track. Like Busby, a member of the Scholar All-America Team from the U.S. Track & Field Cross Country Coaches Association, Recny has compiled a 3.93 GPA as an English language arts major. She has volunteered over 100 hours of community service teaching art to Keeseville Elementary students.
Community Service
All three women have helped raise money for the Special Olympics of Clinton and Essex counties and American Cancer Society's Race Against Cancer meet.
In addition, Busby, Recny and Wiszowaty were selected a month later to the U.S. Track & Field Coaches' Association All-America Scholar Team. Plattsburgh tied Cortland and Geneseo for the most in the SUNYAC. The USTFCA honors.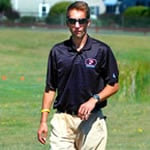 Division III individuals for their academic and athletic achievements during the indoor and outdoor track and field season. To qualify for the USTFCA All-America Scholar Track & Field Team, the student-athlete must have compiled a cumulative grade-point average of 3.25 and have met the NCAA Division III indoor or outdoor automatic or provisional qualifying standard in their respective event.
Coach John Lynch Spearheads Team Award
In addition, the Cardinals were one of 92 Division III teams honored on a collective basis. At 3.20, Plattsburgh trailed only Geneseo (3.41) for the best GPA among SUNYAC schools. Last fall, the women's cross country squad earned similar honors from the U.S. Cross Country Coaches Association.