Jump to Footer
Environmental Science Students Awarded EPA Fellowships | SUNY Plattsburgh
---
SUNY Plattsburgh students Grace DeSantis '17 and Amelia Flanery '17 are two of just 34 undergraduate students nationwide to receive Greater Research Opportunities Undergraduate Fellowships from the U.S. Environmental Protection Agency.
Each award covers up to $50,000 of educational expenses for the last two years of undergraduate study and includes a stipend for a three-month internship this summer at an EPA facility.
The fellowships were established more than 30 years ago to encourage students to pursue careers in fields related to the environment and to continue their education beyond the undergraduate level.
The awards are a testament to both students' dedication to their studies and research, said Dr. Eric Leibensperger, assistant professor of environmental science.
"This is the first time one of our students has received this prestigious award," Leibensperger said. "The EPA awards are rewarding Grace and Amelia's hard work and ability."
Grace DeSantis: Students to Apply Skills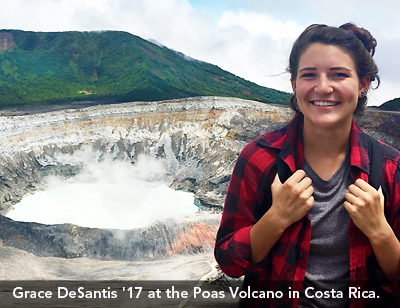 DeSantis, who is from East Aurora, N.Y., is double majoring in environmental science and environmental planning and management.
DeSantis will complete an internship at the EPA Western Ecology Division in Corvallis, Ore. this summer. Her project, "Green Infrastructure for Sustainable Cities," will compare the performance of different kinds of green roof growing mediums.
"Being in the professional setting will help me apply what I have learned in classes in school to real life," she said.
In her time at SUNY Plattsburgh, DeSantis has worked with Dr. Danielle Garneau, associate professor of environmental science, doing research on Lyme disease in the local tick population. She also helped Garneau with tracking painted turtles to determine the gender ratio of the turtles in urban and rural ponds.
Collecting and analyzing data on her own and writing a report on the research for the internship will help DeSantis figure out what kind of work she enjoys so she can chart her career path, she said.
"I think that will really help me figure out what I want to do in the future," DeSantis said.
Amelia Flanery: 'Active in Campus Sustainability, Research'
Flanery, an environmental science major from Hollis, N.H., will complete her internship in Duluth, Minn. Her project will focus on Great Lakes coastal ecology.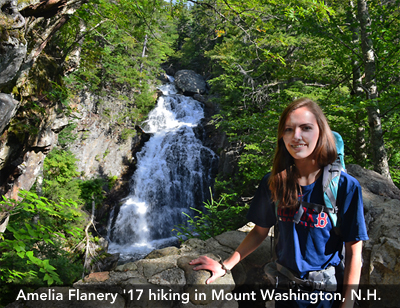 She plans to earn a master's in engineering after graduating from SUNY Plattsburgh and hopes work in the water quality sector of environmental studies.
"It's a nice opportunity to kind of see if that's what I want my master's to be about and what I want to focus my career on," Flanery said of the fellowship, adding that working for the EPA might also help her decide if she would like to work for a government agency in the future.
Flanery has been active in on-campus sustainability efforts since her freshman year.
She volunteered to collect food scraps from the dining halls as part of a pilot composting project started by Dr. Rachel Schultz, assistant professor of environmental science.
"Amelia has helped to transform that pilot project into a self-sustaining program that has resulted in the diversion of approximately 60,000 pounds of food scraps from the landfill," Schultz said.
Flanery also completed an internship and independent study with Dr. Curt Gervich, assistant professor of environmental science, in which they interviewed local farmers about decision making, sustainability and the challenges they face in their work, later comparing the responses.
'Next Generation of Scientists'
With increased access to resources that will further their contributions to conservation efforts, EPA research fellows have the potential to make significant contributions to their fields.
"With the help of this funding, undergraduates will be able to explore their passion in environmental science and cultivate their research skills," said Thomas A. Burke, EPA science advisor and deputy assistant administrator of the EPA's Office of Research and Development.
"These fellows are the next generation of scientists, who will help lead the way in protecting the environment and public health."