Jump to Footer
Professor of Biology Dr. Nancy Elwess Earns Presidential Award for Excellence
---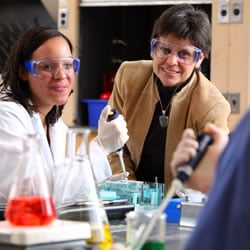 President Obama has named SUNY Plattsburgh Associate Professor of Biological Sciences Nancy Elwess a recipient of the Presidential Award for Excellence in Science, Mathematics and Engineering Mentoring.
Elwess, who will be honored at a White House reception this fall, is one of but a handful of college faculty from across the country to receive this award, designed to recognize the crucial role that mentoring plays in the academic and personal development of students studying science or engineering and who belong to minorities that are underrepresented in those fields.

Engaging Students in High-Level DNA Research
"During her time at SUNY Plattsburgh, Elwess has developed a reputation for her advanced work with undergraduate students as she helps them conduct DNA research," said SUNY Plattsburgh President John Ettling. "Nearly 100 of her students have given presentations at national and international conferences, and many have brought home top honors. Scientists and faculty from other institutions are amazed at the high-level, quality work these undergraduates are doing."

Unlocking the Mysteries of the Past and Present
Studying a newly discovered gene from paramecium (single-celled organisms), students hope to unearth secrets of evolution.
Her students have been working to unlock the mysteries of the past as they analyze the DNA from skeletons of ancient Maya. They are trying to answer questions like did the disorder Beta-Thalassemia, a type of anemia, really exist in the Americas before Columbus set sail? What accounts for differences in burial among some of the Maya? Were some from more aristocratic family lines? What route did the Maya take across the Bering Strait? And are there other Native American tribes that share a common ancestry?
Other students have just completed a joint project, working with Elwess, Adjunct Lecturer Sandra Latourelle and members of the college's psychology department - SUNY Distinguished Teaching Professor Jeanne Ryan and Professor William Tooke. They searched for links between an individual's genes, aggressive behavior and the ratio of one finger to another. Their results will be released soon.

Providing Opportunities for a Wide Range of Students
This sort of work has led to SUNY Plattsburgh undergraduates winning top honors for poster presentations at both the National Association of Biology Teachers and International Sigma Xi conferences four years in a row. In addition, many of Elwess' students have also gone on to pursue higher degrees in the field, being accepted into schools like Yale and the University of Oregon.
And Elwess is committed to providing these opportunities for a wide range of students.
"I don't want to deny any student an opportunity, and I try my hardest to find funding for them to have an opportunity, whether it's for travel or for a meaningful research project - one that clearly has never been done before," said Elwess.

'No Higher Calling'
In offering this award to Elwess and others, Obama stressed the importance of their work.
"There is no higher calling than furthering the educational advancement of our nation's young people and encouraging and inspiring our next generation of leaders," President Obama said. "These awards represent a heartfelt salute of appreciation to a remarkable group of individuals who have devoted their lives and careers to helping others and in doing so have helped us all."
"Science is fun, and that is sometimes lost in all the jargon and details unless you have an exceptional teacher like Nancy Elwess," said Dr. Kathy Lavoie, the college's dean of arts and sciences.