Jump to Footer
Dr. Alexander Enyedi Named President of SUNY Plattsburgh
---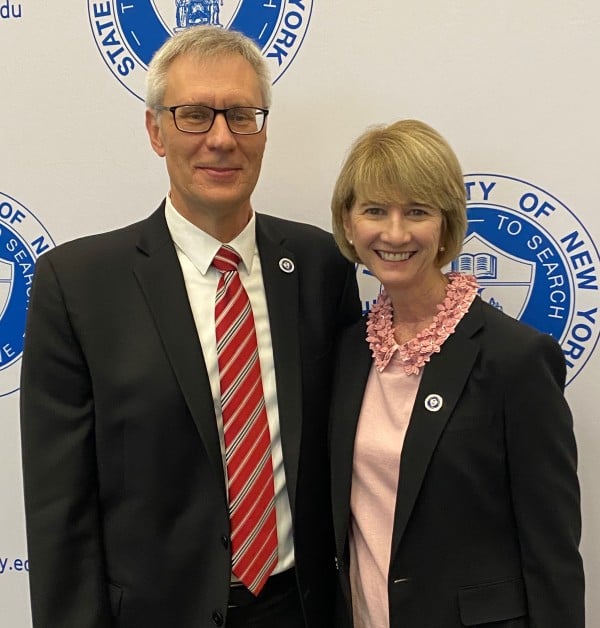 Dr. Alexander Enyedi, a veteran academic leader, administrator and scholar, has been named president at SUNY Plattsburgh by the State University of New York Board of Trustees.
The appointment is effective Jan. 21, 2020. He succeeds Dr. John Ettling, who retired at the end of June 2019 after 15 years leading the college. The announcement was made Wednesday, Nov. 20 at the board's meeting in Albany.
"SUNY Plattsburgh is a special place and I am honored and excited to join the Cardinal family this January," Enyedi said. "This tremendous opportunity will allow me to pursue my passion for serving students, empowering faculty and staff, and connecting with community."
Enyedi currently serves as the provost and vice president for academic affairs at Humboldt State University in Arcata, California. His portfolio spans 13 distinct units, including three academic colleges, the Office of Diversity, Equity and Inclusion, and the Office for Research and Sponsored Programs, among others. He oversees an operating budget of $79 million, which is 60 percent of the university's total general fund budget.
Deeply committed to diversity, equity and inclusivity, Enyedi positioned academic affairs at Humboldt State as a role model for related campus-wide activities, driving system change for equity on campus. Additionally, he was responsible for transforming, reorganizing and developing novel infrastructure/organizational units within Academic Affairs, including the establishment of a new Center for Teaching and Learning and Office of Institutional Effectiveness.
Among other initiatives at Humboldt State, Enyedi coordinated a collaborative relationship with the College of the Redwoods and the HSU California Center for Rural Policy that established a new RN-to-BSN program slated for fall 2020 implementation. He also led an inclusive campus-wide effort to create and implement Humboldt State's new five-year strategic enrollment management plan.
"Dr. Enyedi brings a wealth of experience to this position and is well-prepared for this critical role," said Marty Mannix, chair of the SUNY Plattsburgh College Council and the Presidential Search Committee. "He was an exceptionally strong candidate and I am grateful to the Board of Trustees and chancellor for making this appointment."
Enyedi came to Humboldt State in 2015 after a 22-year career at Western Michigan University in Kalamazoo, Mich. His last five years at Western Michigan were as dean of the College of Arts and Sciences. Enyedi had direct oversight of 26 departments, schools and interdisciplinary programs. He joined the Western Michigan faculty in 1993 as an assistant professor in the Department of Biological Sciences. He moved through the ranks to full professor there in 2002. He was named associate dean in 2005 and dean in 2010.
Enyedi earned his doctorate in plant pathology/biochemistry from Pennsylvania State University. He was awarded a post-doctoral fellowship at the Center for Agricultural Biotechnology at Rutgers University. Born in Canada, Enyedi earned both his master of science and bachelor of science degrees from the University of Guelph in Ontario, Canada.
The appointment concludes a search process that included an 18-member search committee representing a wide range of campus and state constituencies. RPA Inc., an executive search firm with an expertise in higher education, assisted in the process.
"I look forward to working closely with our College Council, faculty, students, staff, alumni and supporters to find new and innovative ways of delivering on SUNY Plattsburgh's promise, which is the promise of a great education, student success, and a commitment to serve the North Country region. I also want to thank the members of the search committee, who spent countless hours in completing this process.
Ettling became president of SUNY Plattsburgh in June 2004 after serving six years as provost and vice president for academic affairs at the University of North Dakota. Josee Larochelle, vice president for administration and finance, has served as chief administrative officer-in-charge at SUNY Plattsburgh since Ettling's departure in June 2019.
"We are pleased to welcome Dr. Enyedi to Cardinal Country," Larochelle said. "This is an important time in the life of the college. He brings the energy and skills to help lead us in the years ahead. I look forward to working with him."
Since its founding in 1889 as a teaching college, SUNY Plattsburgh has a strong history of meeting regional and statewide needs for higher education. With an enrollment of more than 5,300 students, it is also a major driver of the economic and cultural well-being of the community and North Country region. From the close interaction with faculty members to the facilities on campus, students at SUNY Plattsburgh have many invaluable resources available to them as they pursue their studies. Internships, work experiences and study abroad programs also offer students exciting opportunities throughout their college careers.
The official SUNY resolution and a CV is here.