Jump to Footer
College's Head Men's Basketball Coach Tom Curle Announces Retirement
---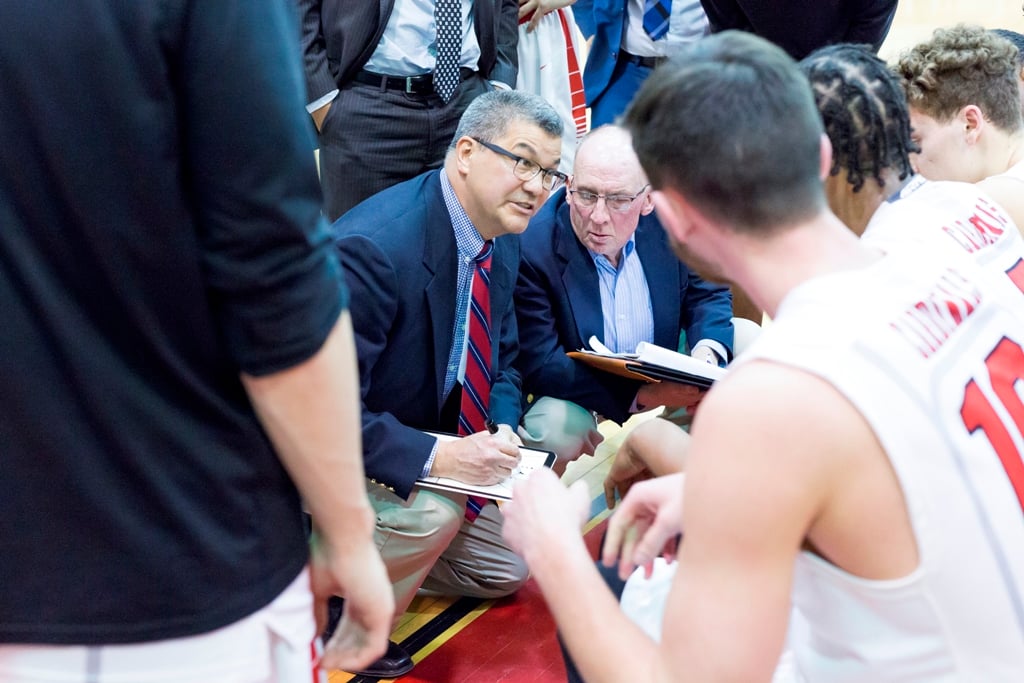 Plattsburgh State head men's basketball coach and associate athletic director Tom Curle, the winningest coach in program history at 292-152 overall, has announced his retirement after 16 years at the team's helm.
Curle has accepted a position as director of athletics at William Peace University in Raleigh, N.C.

Plattsburgh State experienced unprecedented success under Curle's direction, winning five State University of New York Athletic Conference titles and making nine appearances in the NCAA Division III Tournament. The Cardinals reached the round of 16 at the NCAA Tournament on three occasions under Curle, including most recently in 2017-2018.

"It has been an honor to coach at my alma mater for the past 16 years," Curle said. "The relationships established with former players, alumni, colleagues and community members will always be cherished. I will remain a loyal Cardinal, and those friendships will endure. My time at Plattsburgh State has me well prepared to meet the challenges I will face as the athletic director at William Peace University."

'He Will Certainly Be Missed'
"I could not be happier for Tom and for William Peace University," Plattsburgh State Director of Intercollegiate Athletics and Recreation Mike Howard said. "I know this type of leadership position has been a goal of his for a few years now, and I have no doubt that he will do a tremendous job. He will certainly be missed by many here in Cardinal Country, and I consider myself fortunate to have had the opportunity over the past three years to work closely with him as a member of our administrative team. In addition to a long, successful coaching career which has elevated our program to the national stage on a regular basis, his commitment to our student-athletes is and always has been his top priority.

"We are in the early stages of beginning a national search for our next head coach, and I am very confident that we will attract a number of very exceptional candidates."

Won 500th Career Game Nov. 15, 2016
The Cardinals enjoyed 14 winning seasons under Curle's supervision, and throughout his 31-year head coaching career that also saw stops at SUNYIT, Post University and Alfred State, he fashioned an overall record of 556-324. He won his 500th career game on Nov. 15, 2016, when Plattsburgh State topped Clarkson University, 84-68, on the road. Curle finishes his Plattsburgh State coaching career as a four-time SUNYAC Coach of the Year, a two-time National Association of Basketball Coaches East Region Coach of the Year and a two-time D3hoops.com East Region Coach of the Year.

Curle's student-athletes excelled under his guidance, as Plattsburgh State earned 37 All-SUNYAC honors during his 16 years at the helm. Three of his student-athletes were named the SUNYAC Player of the Year: Jonathan Patron in 2018-2019 and 2017-2018; Kyle Richardson in 2015-2016; and Anthony Williams in 2006-2007 and 2007-2008. Four different student-athletes earned All-America citations under his direction. He also coached a pair of Plattsburgh State Athletic Hall of Fame inductees, Curtis Smith and Kris Gibbs-Smith, who were inducted this past fall.

He is a 1982 SUNY Plattsburgh alumnus and is a member of two institutions' sports halls of fame: Alfred State, inducted in 2003, and Waterloo Central High School, inducted in 2002.