Jump to Footer
Chartwells Commits to $125,000 in Scholarship Support to SUNY Plattsburgh
---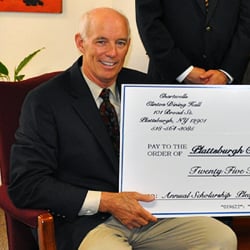 Chartwells, SUNY Plattsburgh's food-service provider, is helping nourish not only students' bodies, but their minds as well.
The company, which has held the dining and catering contract at the college since 2008, has pledged $125,000 over the next five years to support the college's Bright with Promise Campaign. Gifts to the campaign fund the college's top priorities, among them student scholarships and undergraduate research opportunities.
Chartwells representatives met with college President John Ettling and Vice President for Institutional Advancement Anne Whitmore Hansen June 17 to give the college the first of five $25,000 installments toward its overall pledge.
Giving Back to College and Community Priority with Company
"We intend to be here a long time," said Chartwells Executive Vice President Greg Coady. "Contributing to the community is a priority. We feel it's important to have a partnership, to give back and get involved. It is to our benefit as well."
This isn't the first time Chartwells has supported the Plattsburgh College Foundation in its efforts to support student scholarships.
"Chartwells also supports the College Foundation's North Country Scholarship Program and the Community Service Scholarship Program," Hansen said. "In addition, they support the college's athletic programs and are a lead sponsor for the Cardinal Golf Classic, which will be held this summer on Aug. 4."
The college will honor Chartwells for its commitment to the Bright with Promise Campaign at the Plattsburgh College Foundation annual meeting Aug. 20.
Students Make the Difference
"We would be nothing without the students," said Coady. "We know that taking care of students is our priority on every campus we serve. It's important for us to give back in any way we can."
"Many of our students get scholarships from our alumni, but 99 percent of the time, to the students, it's just a name on the scholarship," said Hansen. "But students who receive a Chartwells scholarship, they know what Chartwells is. They realize it every time they enter a dining hall to eat."