Jump to Footer
Chartwells' 'Thank-Ful' Events Include Food Drive, Thanksgiving Dinner
---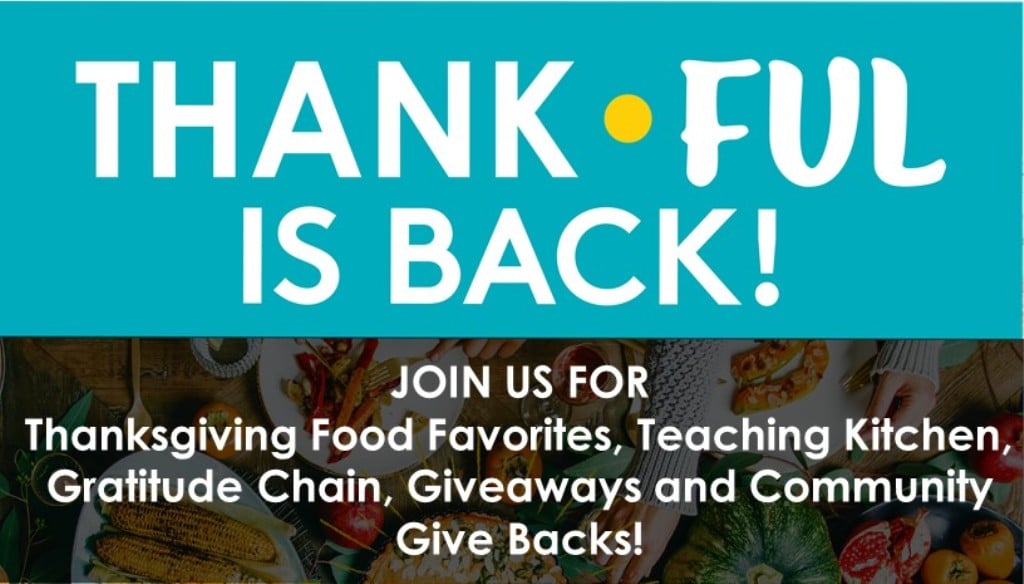 Chartwells, SUNY Plattsburgh's dining service, is once again hosting the Thank-Ful Campus Food Drive now through Tuesday, Nov. 15.
Non-perishable foodstuff and canned goods collected will be given to the campus food shelf. The food shelf, located in Room 110 of the Angell College Center adjacent to the HUB, is frequented by students whose food dollars are stretched to the limit. As such, the food shelf provisions are stretched as well.
"We are going to be giving free meal plan vouchers to the food shelf as well for students who cannot afford a meal plan," said Kelsey Hulbert, marketing manager with campus dining at SUNY Plattsburgh.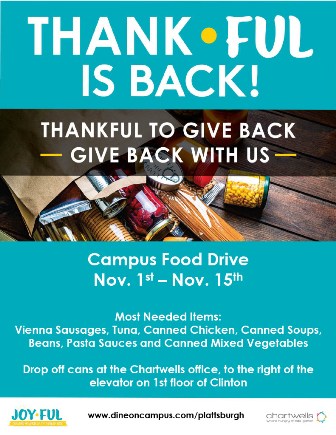 Most needed food items include Vienna sausage, tuna, canned chicken, canned soups, beans, pasta sauces and canned mixed vegetables.
In addition to the Thank-Ful Campus Food Drive, Chartwells will host its Thank-Ful dining event Nov. 16 from 4 to 8 p.m. At that time, all canned goods and non-perishable items collected for the food shelf will on display.
The Nov. 16 event "will be a dining-room takeover with all stations serving Thanksgiving food," Hulbert said. "Tables will be in long rows so that we are all able to connect during dinner."
They will have paper for students to write down what they are thankful for, which will be connected and made into a chain to see how far on campus it can reach, she said.
Teaching kitchens will be open throughout the event, and a chef will be showing students how to make a fall-themed parfait.
"We will have a station where students can 'get a cookie, give a cookie,'" Hulbert said. "They will decorate a fall cookie for themselves and then another for a faculty member on campus. We then will be giving them out."
Other activities include a DJ, photobooth, giveaways and a scavenger hunt.
"These are ways that we are giving back to our community and showing our thanks," she said. "We cannot wait to come together and show what we are thankful for."
Drop off donations in the Chartwells office, first floor Clinton Dining Hall to the right of the elevator. For more information, contact Hulbert at 518-564-4091 or visit https://dineoncampus.com/plattsburgh/events.