Jump to Footer
Four Seniors Honored with 2017 Chancellor's Award for Excellence | SUNY Plattsburgh
---
Four SUNY Plattsburgh seniors were presented with the Chancellor's Award for Student Excellence – the highest honor given to current students – at a ceremony held in Albany Wednesday, April 5.
Grace DeSantis, a senior environmental science and environmental planning and management major from East Aurora, N.Y..
Natalie Gramegna, an audio/radio production and digital media production major from Massapequa, N.Y.
Ambar Jimenez, a biological science major from Santo Domingo, Dominican Republic
Hope VanBrocklin a senior majoring in ecology and environmental science from Watertown, N.Y.
"It is my honor to celebrate the achievements of students who have surpassed SUNY's highest standards of academic excellence and leadership both on and off campus," said SUNY Chancellor Nancy Zimpher, who presented the awards at the event.

Grace DeSantis: 'The Perfect Place to Study'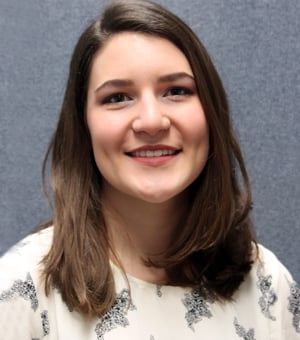 DeSantis has balanced her two majors with two minors, one in applied geographic information systems, the other in Spanish, while often holding internships or research positions and working as a lifeguard at Memorial Hall pool. A volunteer for the Spanish department during SUNY Plattsburgh open houses, she has also spent time volunteering as a field and lab assistant for Lyme disease and painted-turtle research.
"Plattsburgh seemed like the perfect place to study both the ecological and social side of the environmental sciences," DeSantis said. "I value hands-on learning and appreciated that SUNY Plattsburgh's Center for Earth and Environmental Science encourages taking field trips to Lake Champlain, local farms, geological landmarks, ecological restoration sites, and numerous other places in an effort to give students an education supplemented by in situ learning."
When she learned about the Chancellor's Award, the first people she told after her parents were her professors.
"Over the past four years, they have encouraged and supported me every day and, no doubt, are a large source of the motivation that pushes me to exceed academically," she said. "I was very excited and am honored that the SUNY chancellor and the panel of scholars that reviewed the applications believe I am deserving of the award."
DeSantis plans to work with a Plattsburgh-area environmental consulting and engineering firm following graduation with an eye toward attending graduate school for sustainable urban development.
Natalie Gramegna: 'Overjoyed and Humbled'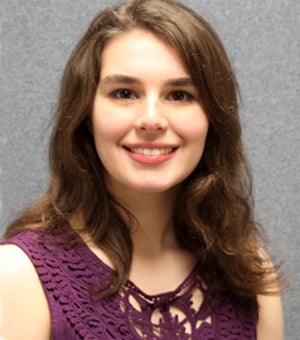 Gramegna has worked in various media production capacities throughout her years at SUNY Plattsburgh and at Cox Media Group Long Island, where she helped engineer live remotes. On campus, she's served as general manager, production director and disc jockey for WQKE and WARP radio stations and has served as vice president, treasurer and member of the National Broadcasting Society.
Meeting her current academic adviser while visiting campus and seeing the state-of-the-art technology housed in Yokum that is used in the entertainment industry is what brought her to SUNY Plattsburgh as a student. She plans to use her experience "in the entertainment industry by continuing my employment at COX Media Group" upon graduating.
Gramegna said she is "greatly honored by this award and would like to thank my professors and mentors, (associate professor and communications chair) Timothy Clukey and Barry Brown (production manager), for nominating me, as well as my family for always encouraging me to achieve.
"I was overjoyed and humbled; it is a great honor to be recognized by my professors and the SUNY system for my accomplishments during my college career," she said.
Ambar Jimenez: 'They Have Always Motivated Me'


Jimenez has worked as a research assistant with Dr. Rajesh Sunasee in the Department of Chemistry from September 2015 through the present. During the summer of 2016, Jimenez was a leadership alliance intern at Brown University's Department of Pathology and Laboratory Medicine. This spring, she served as an instructor assistant in molecular biology for JumpStart Medical Education in Boston, Mass. At SUNY Plattsburgh, she has served as a teaching assistant in the biology and chemistry departments, among many other positions.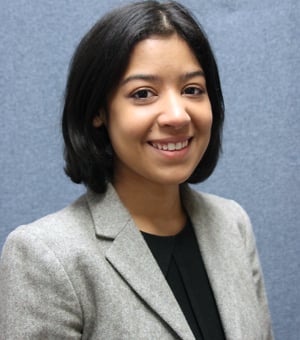 A native of Santo Domingo, Dominican Republic, she now lives in uptown Manhattan. She credits the support and individualized care of the Educational Opportunity Program for her attending SUNY Plattsburgh.
"In addition, SUNY Plattsburgh was one of the few institutions that encouraged me to pursue biology, even though I didn't have a strong background in the life sciences," she said. "I was surprised to have been selected for the Chancellor's Award. After digesting the news, I ran to the EOP office and cried because this award strongly reflects the mission of EOP and the people who direct this program.
"They have always motivated me to study 'smarter rather than harder' and continue moving forward even when I feel paralyzed by uncertainty, Jimenez said. "Finally, this award reminded me of my passion for science and my desire to improve the life of others in a tangible manner."
She credited Sunasee, assistant professor in chemistry, for being a great mentor.
"He is and will always be my role model, the type of mentor and professor I dreamed of becoming one day."
Following graduation, Jimenez will travel to Baltimore, Md., where she will be one of five students nationwide admitted to the Johns Hopkins University School of Medicine as a PREP Scholar where she will be conducting biomedical engineering research in the Center for Nanomedicine at the Wilmer Eye Institute, completing graduate coursework in biomedical engineering and continue working on her student-mentoring project.
Hope VanBrocklin: 'The College Had the Sciences I Wanted'


VanBrocklin, who is also a SUNY Plattsburgh scholar-athlete having served as captain of the Cardinal women's softball team, has worked for the New York State Department of Environmental Conservation as a wildlife technician where she's worked on bird surveys, deer management, wildlife health and rehabilitation, animal tagging and other projects. She has conducted many hours of independent research in New York and Vermont, taking data from hunters to create a waterfowl database, analyzing data collected from Lake Champlain regarding microplastics in the cormorant population, and collecting tick data for research into Lyme disease, in addition to several other projects.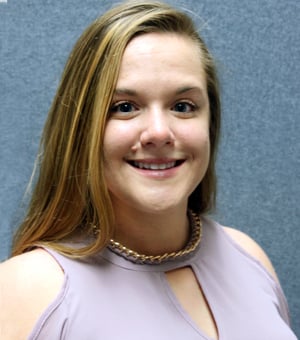 Being awarded the Presidential Scholarship to attend, which along with grants and other scholarships helps cover the cost of a SUNY Plattsburgh education, and being recruited to play softball is what helped sell the college to VanBrocklin.
"The college had the sciences I wanted in order to pursue my career," she said. The Chancellor's Award for Student Excellence was icing on the cake.
"I was very awed and humbled to obtain such a prestigious award. It definitely made me very excited."
VanBrocklin is hoping to parlay her history of working with the DEC into a full-time job as a wildlife biologist or ecologist with the state.
This year, 256 students from SUNY's 64 campuses were recognized. Nominations are solicited for students who have best demonstrated and been recognized for their integration of academic excellence with other aspects of their lives including leadership, campus involvement, community service, creative or performing arts, athletics, and/or career achievement.
"The Chancellor's Award is the highest honor bestowed upon a student by SUNY, and it speaks to the professional preparation our students receive, the close interaction they receive and enjoy with faculty and staff, their leadership skills, and their willingness to share their time and talents with the campus and greater North Country communities," said President John Ettling. "We are extremely proud of our Chancellor's Award winners."
"Every student we recognize today has demonstrated a strong commitment to their degree program, home campus, greater community, and much more," Zimpher said. "Congratulations to all of the students receiving this year's award."