Jump to Footer
2014 SUNY Chancellor's Awards Recognize Faculty, Staff For Excellence | SUNY Plattsburgh
---
The State University of New York has awarded five SUNY Plattsburgh faculty and staff members the 2014 Chancellor's Award for Excellence.

This year's recipients:
For teaching: Dr. Wendy Gordon and Colleen Lemza.
For faculty service: Dr. Delbert Hart.
For excellence in professional service: Dr. Rebecca Kasper.
For classified staff: Debra Thomas.
"Faculty and staff who receive the Chancellor's Award for Excellence have served their students, fellow faculty and staff, campuses and communities with the utmost distinction," said SUNY Chancellor Nancy L. Zimpher. "It is a great honor to be able to recognize these five SUNY Plattsburgh faculty and staff members with this award. Congratulations to all of this year's honorees across New York state."
Dr. Wendy Gordon: Excellence in Teaching
Gordon joined the SUNY Plattsburgh faculty in September 1998 as a visiting assistant professor. A year later, she was appointed to the rank of assistant professor. In 2005, she was promoted to associate professor and, since 2006, has served as chair of the history department.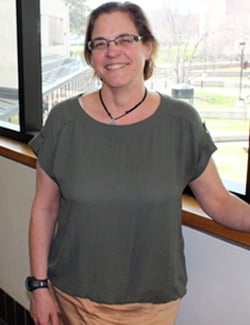 She graduated with a Ph.D. in comparative history through a joint program between Central Michigan University and the University of Strathclyde in Glasgow, Scotland, in 1999. Her doctoral dissertation, "Mill Girls and Strangers: Single Women's Migration in Scotland, England and the United States, 1850-1881," was published by SUNY Press in 2002.
Gordon serves as the presiding officer of the faculty and has been a College Auxiliary Services board member, a General Education Committee member, an associate of the gender and women's studies program and a delegate to the United University Professions. She has received numerous grants and awards for research and "is an accomplished senior faculty member who can always be counted on to offer her expert and diligent services to SUNY Plattsburgh and the wider community," said SUNY Plattsburgh President John Ettling.
"Dr. Wendy Gordon is well-known on campus as a highly effective teacher," he said in Gordon's nomination letter. "(She) brings to her students a well-developed and dynamic philosophy of teaching. … Students in her classroom consistently evaluate her with the most positive scores. Her students enjoy her classes immensely yet at the same time they appreciate the high standards that Dr. Gordon requires…"
Gordon said the award "acknowledges the commitment I've made to being the best teacher I can be every day that I walk into a classroom. It's a satisfying sense of accomplishment."
Colleen Lemza: Excellence in Teaching
Lemza has taught at SUNY Plattsburgh since 2001 and has held the position of assistant professor in the Department of Journalism and Public Relations since 2008. Prior to 2001, she held various positions in the private sector related to communications and human resources. A SUNY Plattsburgh graduate with a bachelor's degree in communication studies and a master's in mental health counseling, she also holds a master's in public relations from the S.I. Newhouse School of Public Communications, Syracuse University.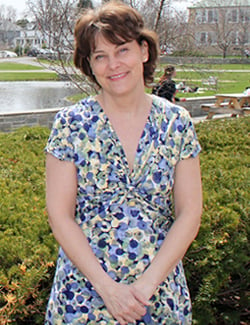 Lemza's scholarly accomplishments include journal articles, numerous presentations at professional conferences and workshops and several grant awards. At SUNY Plattsburgh, she has garnered "a reputation as a dedicated, demanding and effective teacher," said Ettling in his letter of support on her nomination for the Chancellor's Award. "She has successfully integrated several projects into her classes that incorporate the theoretic foundation of public relations with practical applications."
Her many activities on campus and in the wider community include helping the Crisis Management Team and serving as a member of the Civil Engagement Task Force, SUNY Plattsburgh Campus Community Coalition and the SUNY Plattsburgh PRSSA Chapter and as adviser to Cardinal PR, the student-run public relations agency. She is the originator of the local Shine On! program for empowering elementary-aged girls and received the Girl Scout National Volunteer Award in 2012.
"Students and alumni who have taken her courses rave about the transformational nature of the professional preparation they have received," said Cori Jackson, director, Center for Student Involvement, in her nomination letter. "And while creating experiential curricula and building community partnerships can be highly time consuming, Ms. Lemza puts in this additional time with each of her courses to ensure exceptional learning experiences for her students."
"When I heard I had received this award, my first thought was how exciting for our department because we had external reviewers on campus that day for our self-assessment," Lemza said. "I hope it validates experiential, applied learning in the classroom. I try to incorporate an academic service learning component into all my classes because employers need young hires who can hit the ground running. … I strive to develop the whole person by turning students into all-around coveted employees.".
Dr. Rebecca Kasper: Excellence in Professional Service
The director of the Center for Teaching Excellence and co-director of the Center for Public Service received her Ph.D. in religious studies from Marquette University in 1993. She was hired by SUNY Plattsburgh to head its newly formed Center for Teaching Excellence and has been helping faculty and staff implement best-teaching practices ever since.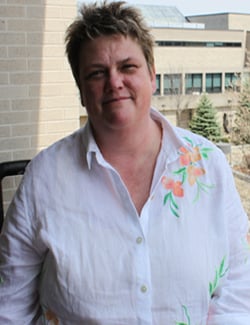 "As director, Dr. Kasper is focused on improving the quality of teaching and student learning on campus," Ettling said in his support letter. "She is well-known as a hard-working, energetic role model for the teaching faculty at SUNY Plattsburgh."
In her seven years on campus, she has developed countless workshops, programs and conferences, including the Conference on Teaching and Learning, which recently concluded its sixth year in April. In 2008, she began the Student Committee on Teaching Excellence, which administers the Teacher of the Month award.
Her service to the campus includes positions on the General Education Committee, Campus Plan Priority Committee, Counsel on Institutional Programs, College Assessment Committee, Educational Technology Grants Committee and Teaching Learning and Technology Advisory Group. She also serves on many statewide boards and committees, and, in June, she will be presenting a full day of faculty development instruction on course design to the adjunct faculty at the Fashion Institute of Technology in New York City.
She is the chair of the City of Plattsburgh Democrats Committee, a member of the Clinton County Democrats Committee and the Ward 5 counselor on the Plattsburgh Common Council.
"In all my own professional interactions with her, and, in every conversation I've had with other faculty about her work, Dr. Kasper has shown again and again an incredible level of dedication to her role on campus," said Dr. Jessamyn Neuhaus, associate professor of history. "She has an unflagging belief in the power of education, in our students' academic abilities and most importantly, in each and every instructor's unique talents for fostering student learning."
"My initial reaction was gratitude," Kasper said upon hearing of her award. "I have a job I love and colleagues I enjoy working with on behalf of our students, and I am grateful to have earned their respect.
"This award certainly validates many of my efforts to help faculty to become better teachers and my desire to establish SUNY Plattsburgh as a premier teaching institution. It also inspires me to continue to dedicate myself to fulfilling that vision."
Dr. Delbert Hart: Excellence in Faculty Service
Associate Professor of Computer Science Dr. Delbert Hart wanted to return to his alma mater to teach. A 1993 SUNY Plattsburgh computer science/mathematics graduate, he earned his master's and Ph.D. at Washington University in St. Louis, returning to Plattsburgh in 2006 as a lecturer in computer science. He was hired as an assistant professor in 2007 and was promoted to associate professor in September 2010. Prior to that, Hart served as assistant professor in the Department of Computer Science at the University of Alabama, Huntsville, from 2000 to 2006.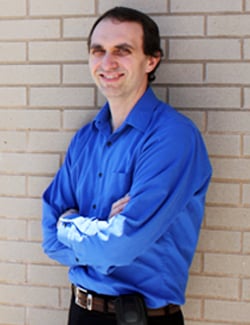 According to Ettling, Hart is a "very active participant in service to the SUNY Plattsburgh community and beyond" and is responsible for administering departmental computer labs and coordinating the department's internship program. He serves on numerous committees, including the Center for Teaching Excellence Task Force, the Information Technology Advisory Committee and the Information Security Committee.
A faculty senator since 2009, he is also adviser to the Computing Club, chairs the Faculty Senate Resources and Planning Committee, and is a member of the Middle States Planning and Assessment Working Group and the Strategic Planning Task Force, among other committees.
Hart played a key role in the planning of the new business and computer science building, now called Au Sable Hall. He served on its steering, design, technology and furniture committees. As departmental liaison, he represented the computer science department at various stakeholder meetings beginning with the building's design phase in 2009 through its 2013 completion.
"I was very impressed by Dr. Hart's insights into planning and organization, his acuity in underscoring problems and identifying solutions, and the hard work, determination and follow-through to get various tasks accomplished," said Dr. James Liszka, provost and vice president for academic affairs regarding the preparation for Middle States visitation in 2012. "His contributions to this committee were immensely valuable."
"Although service is only part of my work here … I think what this award says is that faculty have an essential role to play in campus operations," Hart said. "Faculty participation grounds discussions and decisions back to our college's mission of supporting student success.
"I am honored by the recognition and am glad that I have been able to participate and contribute to various endeavors on campus. SUNY Plattsburgh is a wonderful community, and I am happy to be part of it."
Debra Thomas: Excellence in Classified Service
Thomas has been a part of SUNY Plattsburgh since 1981, when she was senior stenographer. Moving up the ranks to her current title of secretary II, she has served in the Office of Institutional Advancement for 32 years, where she is secretary to Anne Hansen, vice president for institutional advancement. Hansen nominated her for the award. The IA office comprises development, alumni relations, marketing and communications, advancement services, the Plattsburgh College Foundation and the Plattsburgh Alumni Association.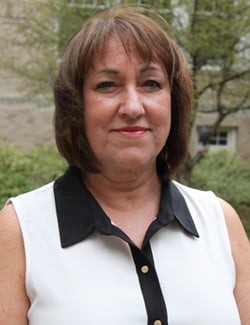 In her nomination, Hansen cited examples of how Thomas excels in her position and the exemplary customer service and administrative support she provides to students, staff, members of the campus community and the community-at-large.

"Members of the Plattsburgh College Foundation, directors and prospective donors are appreciative of the care and attention provided by Debbie — on the phone, through email and in person," Hansen said in her nomination letter. "Their compliments and appreciation are relayed on a regular basis."

Hansen points out that during Thomas' 30th anniversary year, the foundation passed a formal motion recognizing her contributions to the success of the foundation and its ability to support students.

"Debbie's skills, professionalism, performance, commitment and the way she interacts with others have a direct impact on IA's efforts to cultivate goodwill, leading to meaningful actions that support the college," Hansen said.

Thomas earned her associate's degree in secretarial sciences from SUNY Cobleskill and, while working full time at SUNY Plattsburgh, earned her bachelor's degree in business administration from SUNY Plattsburgh in 1991. She has served on the CSEA Education Committee, the Assessment Advisory Committee and the AuSable Valley Middle School Association and has been a Girl Scout leader. She has been active in helping raise funds for the Alzheimer's Association, the American Heart Association and the SEFA Campaign.

"I was thrilled and pleased when Anne first told me that she had nominated me," Thomas said. "Dr. Ettling came in to tell me I had won the award, and I was elated, proud, I felt honored to be chosen."

"Over the last 33 years, I have worked with many wonderful people — co-workers, board members, students, alumni — and I am proud of the relationships I have built during those years."

Thomas said she felt a chancellor's award shows "that people value your work, that they respect your contributions. It's validation," she said. "I'd like to thank Anne for putting my name forward. I know I'm appreciated; this makes me feel good about the work that I do."

About the Awards

The awards provide system-wide recognition for consistently superior professional achievement and encourage the ongoing pursuit of excellence. Through them, SUNY publicly proclaims its pride in the accomplishment and personal dedication of its instructional faculty, librarians and staff across its 64 campuses and System Administration.

Individuals selected for this honor are role models within the SUNY community. A certificate and a Chancellor's Excellence Medallion are bestowed upon each honoree to commemorate selection. SUNY Plattsburgh recipients will be honored in the fall during the President's Welcome prior to the start of the semester.

Unable to retrieve file contents for https://www.plattsburgh.edu/news/news-list.php
Warning: count(): Parameter must be an array or an object that implements Countable in phar:///var/www/staging/_resources/scripts/brei.feedmanager.ext/Filtering/FilteredObject.php on line 126