Jump to Footer
2015 SUNY Chancellor's Student Award Winners | SUNY Plattsburgh
---
Four students received the 2015 Chancellor's Award for Student Excellence, which honors academic excellence, leadership, campus involvement, athletics, community service and participation in fine or performing arts.
Recipients Franco Bastida, Yessenia Funes, Abigyle Ploetz and Natalie Spiess joined honorees from all 64 SUNY campuses at an award ceremony April 2 at the Empire State Plaza in Albany..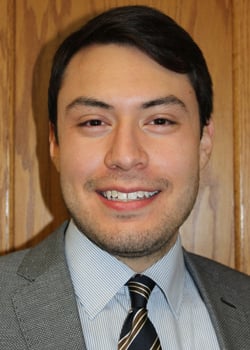 Franco Bastida
A native of Torreon, Mexico, Bastida will graduate in May with a degree in Latin American studies. He participated in the Model Organization of the American States for three years and was elected as head delegate to the 2015 Washington D.C. Model Organization of American States conference. As a member of the Alpha Sigma Phi fraternity, Bastida was named the New Member of the Year in April 2014, and he was elected president of Inter-Fraternity Council where he worked to raise the GPA requirement for new members to 2.5. He also completed an internship at the Aaron Woolf for Congress Campaign for New York's 21st district.
Bastida credits his success to the unique opportunities he was awarded through his major.
"I hope that the administration sees the value in the Latin American Studies Program at SUNY Plattsburgh," he said. "Even though we are part of a small liberal arts college in Upstate New York, our alumni, our results, and the number of Chancellor's Award winners who participate in the program prove that it is worth keeping."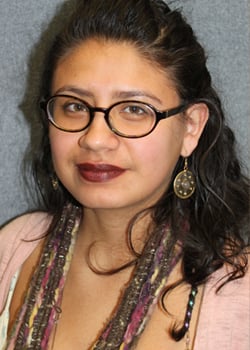 Yessenia Funes
A native of Uniondale, N.Y., Funes will graduate in May having majored in magazine journalism and environmental studies. Funes was selected to participate in the New York Times Student Journalism Institute and contributed articles to USA Today College, Yes! Magazine, and the Grist Organization. On campus, she was editor-in-chief of DoNorth, an award-winning in-flight magazine, and was a presenter at the College Media Association National Conference.
Funes' mother took a photo of her acceptance letter and emailed it to her. Her mother, an immigrant of El Salvador who speaks English as a second language, wanted to ensure that Funes understood what she was trying to convey.
In a 2013 profile written about her receipt of the Susanna C. Burgett Scholarship, Funes said she was inspired by her parents' native country.
"With my words I will expose the atrocities and depression occurring in developing nations such as El Salvador. These stories and voices that remain unheard will be heard with my help."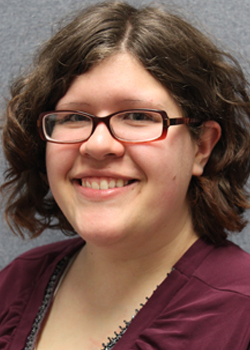 Abigayle Ploetz
A native of Eden, N.Y., Ploetz will graduate in May with majors in music and theater. Ploetz studied Italian opera at the Florence University of the Arts after being accepted into SUNY Stony Brook's study-abroad program. While in Florence, Ploetz also participated in two volunteer programs where she taught English to young children and acted as a Chat Pal to one of the university students. She is a member of Alpha Psi Omega theater honor society and was selected to compete for the Irene Ryan Scholarship at the Kennedy Center American College Theater Festival. She also has served as an intern at the Springville Center for the Arts.
Like Funes, Ploetz was told about her achievement by her mother. She said that the moment was emotionally touching.
Ploetz said the award represented her varied interests and her experience in and outside the classroom. She said she believes academic curiosity is an important factor to success.
"Find the things that interest you, get involved in them, and go as far as you can," she said..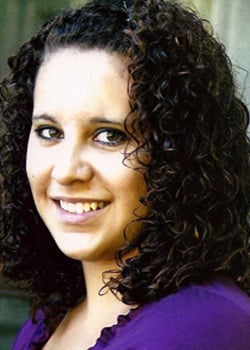 Natalie Spiess

A native of Sharon Springs, N.Y., Spiess graduated in December 2014 having majored in political science and gender and women's studies. Spiess was president of the Center for Women's Concerns for three semesters and the chief organizer of the annual Take Back the Night rally for three years. She also was a research intern for Emily's List of Washington, D.C., the nation's largest political action committee for women in democratic politics.

Spiess said she viewed the award as a validation of her hard work and credited her experience working as a teaching assistant to her success. She said that building and maintaining a positive relationship with her professors was important because they provided her with unique opportunities and advice.

"It's important to get to know your professors," she said. "Don't be afraid to ask for advice or help. Treat them as mentors."

Unable to retrieve file contents for https://www.plattsburgh.edu/news/news-list.php
Warning: count(): Parameter must be an array or an object that implements Countable in phar:///var/www/staging/_resources/scripts/brei.feedmanager.ext/Filtering/FilteredObject.php on line 126