Jump to Footer
Cardinal Points Receives Perfect All-American Ranking
---
Cardinal Points, SUNY Plattsburgh's independent, student-run newspaper, was named an All-American recipient for the fall 2010 semester, receiving for the first time five marks of distinction — a perfect ranking.
Awarded by the Associated Collegiate Press, this All-American ranking is the 11th for Cardinal Points, which was inducted into the college newspaper Hall of Fame in October 2010.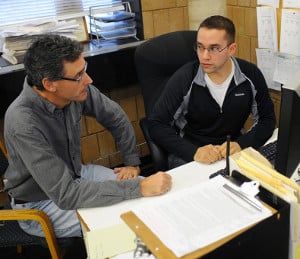 Focusing on the Campus
Cardinal Points Editor-in-Chief Matt Rosenberg said news of the accolade was a pleasant surprise, especially after all of the hard work students put into the paper last semester.
"No one can cover this campus as well as we can," he said, pointing out that that came through in the critique. "The person who did the critique said it was clear we make the focus of the content relate to the campus," he continued. "And they praised us for that. I think our mindset was just in the right place when we started, and we were rewarded for it."
All-American status, awarded to student newspapers for journalistic excellence, is bestowed on only about 20 percent of college newspapers nationwide.
To be named an All American, a newspaper must score 900 or higher out of 1,090 points and receive at least four marks of distinction out of the five possible.
Cardinal Points received marks of distinction for all five categories – coverage and content; writing and editing; photos, art and graphics; layout and design; and leadership. In addition, the paper also received a score of 927.
'Quality and Commitment'
Shawn W. Murphy, associate professor and chair of the journalism department, is the faculty adviser to Cardinal Points. He has advised the newspaper since fall 1997.
"To me, this award shows a level of quality and commitment from the students to make improvements to bring the paper to the next level," he said. "It's a process, and a process that has occurred over a number of years. I'm very proud of them."