Jump to Footer
'Artists as Innovators' Exhibit includes Artists Talks, Workshops
---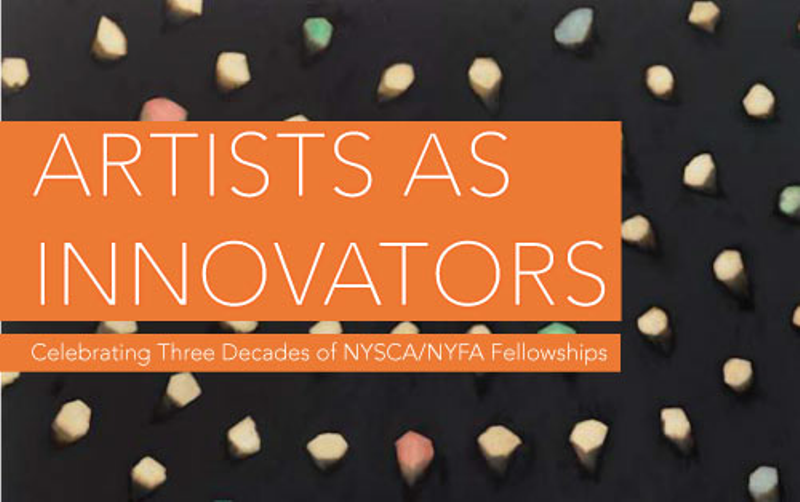 New York's Foundation for the Arts' landmark traveling exhibition, "Artists as Innovators: Celebrating Three Decades of New York State Council on the Arts/New York Foundation for the Arts Fellowships," will be displayed through Aug. 9 from 12 to 4 p.m. in the Myers Fine Arts galleries.
Artists included in the exhibit have all received support from the NYSCA/NYFA artist fellowships during their careers. A few of the artists featured will be visiting campus during the spring semester and one artist will visit during Museum Days in June.
Elia Alba, known as a multimedia artist with a multitude of works in the field of photography and sculpture best known for breaking boundaries and creating new ideologies, will be on campus April 25 and 26 to host a discussion and give a workshop.
Artist Talk – April 25 at 7 p.m. in Yokum, Room 202
Workshop – April 26 at 10 a.m. in Myers Fine Arts, Room 102
The Guerrilla Girls, a group of feminist activists who use art and humor to expose gender and ethnic bias in television, movies, art and pop culture and are best known for their decision to stay anonymous by wearing guerrilla masks in public, will visit campus May 9 and May 10 to give a talk and work with students in a workshop.
Artist Talk – May 9 at 7 p.m. in Yokum 202
Workshop – May 10 at 10 a.m. in Myers Fine arts, Room 102
During the summer Museum Days event, Carrie Hill, known for her traditionally woven Mohawk baskets, will be visiting and hosting a discussion and workshop June 15 in Room 224 of Myers
Artists Talk – June 15 at 10:30 a.m.
Workshop – June 15 at 11:30 a.m.
The discussions and workshops are free and open to the public. Seating is limited. To reserve a seat, contact Christina Elliot, museum educator, at [email protected]. For more information contact The Plattsburgh State Art Museum Office at 518-564-2474 or email [email protected].