Jump to Footer
Annual Black Solidarity Day Offered Myriad Views on Erasing Racism and Hate
---
SUNY Plattsburgh embraced the theme, "You Belong: Let's Erase the Hate," in recognition of Black Solidarity Day Nov. 6 with a day-long series of workshops, lectures, hands-on projects and panel discussions focusing on social justice and unity.
Workshops included "How Faith Communities Engage in Issues of Racial Justice," "Unity Unleashed: Erasing Hate, Embracing Belonging," "Check your Fattitude: Unlearning Fat Phobia in the Helping Professions," and "Mental Health Stigma in the Black Community," among dozens more.
Embracing Curls
In "Embrace Thy Curls," Isabella Rodriguez, president of Fuerza, the black and indigenous people of color student union, facilitated a discussion about the harmful stereotypes associated with curly hair.
"I loved this session," said nursing major Cesia Arzu '26. "This session was definitely something I'm very interested in because growing up I felt lost when it came to my hair texture."
Students of color spoke about how the positive feedback they got about their hair when it was straightened affected how they felt about their hair and their identity.
Some students said they were told by family members that their hair was difficult to "tame" or style and that was harmful to their sense of self.
Arzu, who is from the Bronx, said the Black Solidarity Day schedule was a great start to educating the campus community about issues Black and brown community face, and she hoped similar events would be organized more frequently.
'Harmful Narratives about Race and the Environment'
In "Dismantling Harmful Narratives about Vulnerable Populations and Nature," Dr. Kim Coleman, associate professor of earth and environmental science, spoke about the use of racist stereotypes by John Muir, who is known as the father of the national parks and Gifford Pinchot, the first head of the U.S. Forest Service.
Pinochet was a delegate to the first and second International Eugenics Conferences, which advocated for the forced sterilization of Black and brown people, the poor, and people with disabilities.
Coleman shared the results of research she worked on with alum Julian Kara, faculty and the University of Vermont, and Upward Bound staff.
Using critical race theory as a theoretical framework, the research group collected existing environmental student survey tools and eliminated questions that might bias the results based on race, which amounted to hundreds of surgery questions.
The goal of the research was to contribute to the improvement of environmental education in secondary school for communities of color and increase racial representation in environmental careers.
"I believe that a lot of people overlook environmental justice as a crucial part of social justice in America," said Timothy Lloyd '27, an ecology major. After Black Solidarity Day session wrapped up, the Keeseville native said he hoped to learn from others and take those new perspective with him as someone who has never lived outside the North Country.
'Black Mermaid Backlash'
About 75 students, faculty and staff attended "Black Mermaid Backlash: Talking About Disney's 2023 'The Little Mermaid.'"
So many people turned out, that organizers opted to move it from the Amnesty Room to Flynt Commons for more space.
Dr. Connie Shemo, professor of history, and Dr. Jessamyn Neuhaus, director of the Center for Teaching Excellence, started the conversation with an introduction to the public backlash to Halle Bailey's casting in Disney's live action remake of the animated original from 1989.
Much of it unfolded on social media with the hashtag #NotMyMermaid with users expressing their disappointment that a white actor wasn't cast in the role of Ariel, they said.
Shemo encouraged students to examine a "colonization of imagination" that leads some to believe stories should be told by white actors even if they are portraying mythological creatures.
"A lot of people were happy (with the casting). A lot of people were angry. A lot of Black and brown children were very excited, and others were like 'If she's a fish then why does it matter?'" Arzu said.
"I'm ready to hear the opinions of others. I'm very open."
'Why Florida Matters'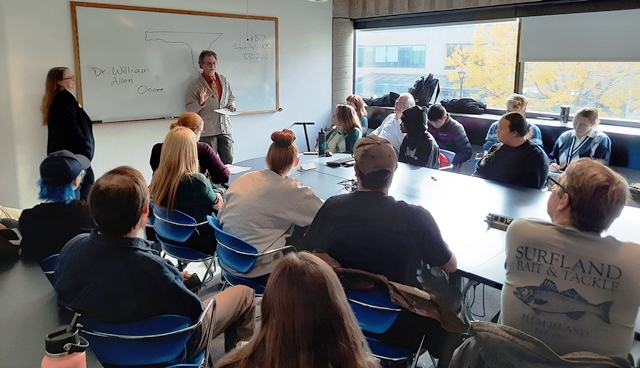 Dr. Tracie Guzzio, director of the honors program, and Dr. Gary Kroll, professor of history, took a look at how recent legislation in Florida affects the teaching of Black and other diverse peoples history.
The conversation included discussion of how Florida Gov. Ron DeSantis, a Republican forerunner in the 2024 presidential campaign, has enacted laws and policies that restrict teaching of race and gender and criticized the pilot AP African American history course because "as it exists lacks historical accuracy and educational value," according to DeSantis' deputy press secretary, Jeremy Redfern.
The College Board, which oversees the Advanced Placement program, caved to pressure and eliminated topics on Black Lives Matter, Black queer theory and intersectionality.
Kroll discussed DeSantis' legislation that prevents Florida colleges and universities from spending state or federal money to promote, support or maintain programs or campus activities that "advocate for" diversity, equity and inclusion. Schools also will not be able to spend money on programs or activities that "promote or engage in political or social activism" as defined by the State Board of Education or the university system's Board of Governors.
In other words, Bill 266 eliminates funding for DEI initiatives.
"A day like today — Black Solidarity Day — wouldn't be allowed at colleges and universities in Florida," Kroll said.
Keynote Address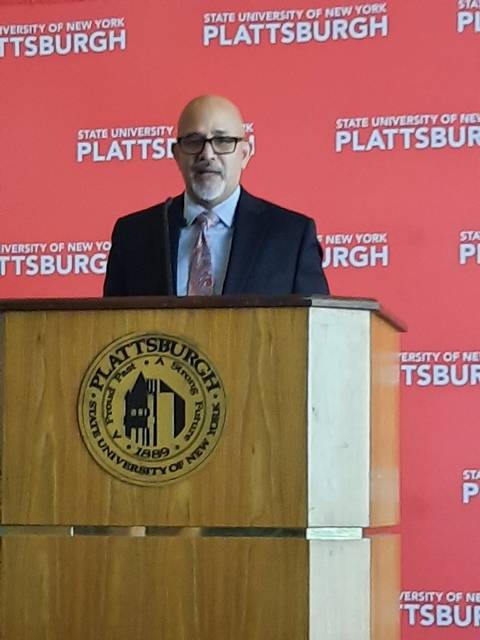 Dr. Ricardo Nazario y Colon, State University of New York senior vice chancellor for diversity, equity and inclusion and chief diversity officer, gave a keynote address in the Warren Ballrooms, where he stressed how systemic racism can be battled not just by members of the BIPOC community but by the allies who support them.
Change can be facilitated "from within and outside the Black community," he said. "For allies, understanding this history is essential for developing genuine empathy and practical solidarity. It is not enough to be non-racist. One must be actively anti-racist, which includes understanding and protecting the legacy of ongoing reality of legal injustices."
Allies are important, he said.
"The fight is a shared responsibility. Awareness, education and advocacy should not fall solely on Black individuals. Allies can help shoulder the burden by educating themselves and others about racism and privilege and engaging in shared responsibility.
"Allies can amplify Black voices particularly in spaces where they are underrepresented and not heard. Allies can use the platforms, access and privileges to magnify the concerns and needs of the Black community. Allies often have access to different resources and networks that can be used to support Black initiatives and organizations, thus helping to create more significant change."
— Stories, Photos by Associate Director of Communications Gerianne Downs
— and Assistant Director of Communications Felicia Krieg