Jump to Footer
Adjunct Lecturers Cited for Excellence in Teaching | SUNY Plattsburgh
---
Two SUNY Plattsburgh adjunct lecturers received the state Chancellor's Award for Excellence in Adjunct Teaching.
Richard Aberle, adjunct lecturer in English, and Laura Holzer, adjunct in counselor education, received the highest award given by the state university system to a member of the adjunct faculty. According to SUNY, the award is a "system-level honor conferred to acknowledge and provide system-wide recognition for consistently superior professional achievement and to encourage the ongoing pursuit of excellence."
Richard Aberle: A Passion for the Classics
Aberle has taught as an adjunct in the English department since 2010 and brings to the college a wide array of teaching experiences, from the University of Nevada Las Vegas, McGill and Berkley to the College of Southern Nevada, high schools in South Central Los Angeles, and the prep school Phillips Exeter Academy.
At SUNY Plattsburgh, he has a passion for what he teaches — classical rhetoric and the classics.
"I love what I study; I love my discipline," he said. "A classical education in the liberal arts constitutes cultural capital. When I walk in that classroom, I want the students to be better citizens. I feel like I am a guardian of the humanities. I know that I am among my students' last exposure to the classics."
Aberle teaches English composition as well as intro to poetry and fiction. Receiving the Chancellor's Award was a nice recognition, he said.
"I work really hard to give my students something important. I don't want to see them become cogs in somebody else's wheel. In teaching fiction and poetry, it teaches them empathy — recognizing the sufferings of others. Fiction forces us to do that.
He received his bachelor's degree in history from Hobart College and his master's degree from the University of California. He is working on his Ph.D. in English at McGill in Montreal, working closely with Dr. Tom Moran, director of the Institute for Ethics in Public Life. Moran nominated Aberle for the Chancellor's Award.
"Tom is my mentor," Aberle said. "He's always been incredibly supportive and encouraging."
Laura Holzer: Excited to Receive Award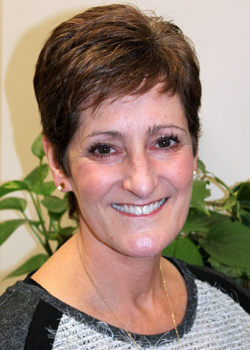 Holzer has been teaching in the counselor education department regularly since 2008, offering the graduate-level counseling techniques course. After receiving her master's degree in counselor education in 1986 from SUNY Plattsburgh, she's been working in the field since 1994.
A professional counselor, she has a private counseling practice where she works with clients with depression, anxiety, addictions and stress management in addition to work with the Employee Assistant Program.
Holzer said she was excited to receive the award and thanked the support she's received from the faculty.
"(They've) been very supportive — always have been," she said. Professor Emeritus Dr. Stephen Saiz "was especially supportive. He would often say to me, 'Have I told you how much I appreciate what you do?'"
Holzer received her undergraduate degree from SUNY Potsdam.