Jump to Footer
Accounting Major Lands Spot on Forbes Under 30 Scholar List
---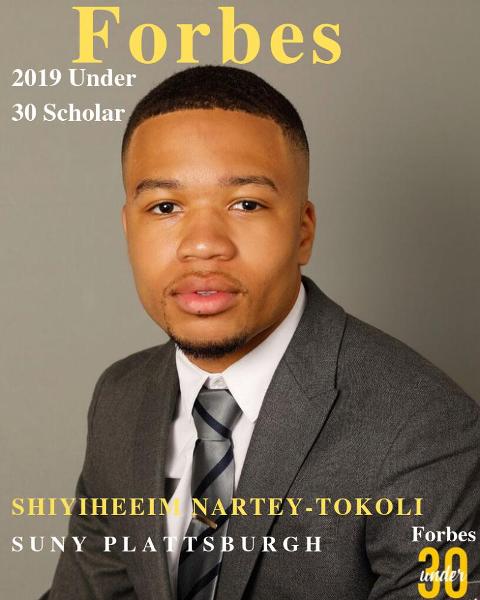 A senior accounting and business administration major from the Bronx has been selected as a Forbes Under 30 Scholar and will travel to the Forbes Under 30 Summit in Detroit at the end of October.
The American business magazine hosts the summit, which represents the "movers and shakers, innovators and leaders of tomorrow," according to organizers. "Diversity and inclusion are at the core of the program, celebrating students across every gender, race, ethnicity, religion and sexual orientation."
The scholar program is open to juniors, seniors and graduate students.
Shiyiheeim Nartey-Tokoli said the scholar designation "means I've made the right steps so far in life when it comes to attaining my goals."
"Sometimes a bad grade or missed assignment can cause you to question your values and if you'll ever make it to where you want to be in life," he said. "This recognition has helped me realized that I'm still going down my desired path."
Long List of Involvement
That path includes having held multiple Fortune 100 internships, the most recent having been this past summer with JP Morgan Chase & Co., and being involved in myriad activities on campus, including NABA as an ambassador, treasurer and scholarship recipient, community chair of Fuerza: The Black and Latino Student Union, vice president of finance for the Student Association, vice president, treasurer and event planner for KINKS, artistic director for Night of Nations, and peer education for Gender and Women Studies weekend class, among many others.
In addition, Nartey-Tokoli served for two years as a resident assistant, an English teaching assistant for the Educational Opportunity Program Summer Institute, and as co-chair of the concert committee for Springfest.
Dr. Mohamed Gaber, professor and chair of accounting in the School of Business and Economics, said he's had the "pleasure to know Shiyiheeim for more than two years during his undergraduate studies at SUNY Plattsburgh."
'Young Business Professional'
In addition to taking an advanced course with Gaber in international accounting, "where he presented himself as a young business professional during his oral presentation of a capstone research project required for the course, we had so many chances to discuss volunteerism and leadership activities."
In both academics and leadership, Gaber said the Forbes scholar "presented overwhelming evidence of his capacity to do more, his aspiration to serve his constituents, and to be a role model of a good citizen.
Gaber said that Nartey-Tokoli "is so proud to be part of SUNY Plattsburgh; over the past few years, he has built a strong relationship within the college community and beyond at all levels … that will serve him very well in future years to come."
"Professor Gaber has shown me over and over how much he truly cares about the success of every student in the SBE," Nartey-Tokoli said. "From allowing me to use the Bloomberg Terminal after hours to finish assignments to taking the time out of his day to speak to me about post-graduation plans, he has always been kind and willing to help."
He also praised his adviser, Dean Steria, accounting lecturer, who he has admired for his "honesty and charisma."
"Taking managerial accounting with Dean was the first time that I realized how fun and exciting accounting could be," Nartey-Tokoli said. "He also was never afraid to remind me why I attended college, which was to graduate. Sometimes I was so consumed by my extra-curricular activities that it affected the amount of time I gave to my classes. I always loved the connection that he had with his advisees and was so grateful when I made it to his 'Wall of Fame.'"
Putting His Best Foot Forward
Associate Professor El-Sayed Kandiel inspired Nartey-Tokoli differently. By his own admission, he didn't do well in those classes.
"(But) he helped me realize how important it was to always put your best foot forward," he said. "Kandiel was an amazing teacher who truly cared about his students' success, and I always regretted the fact that I didn't put my best foot forward in his class. Now, whenever I feel like being lazy or giving up, I think of my time in cost accounting, and it reminds me."
While Nartey-Tokoli is poised to graduate this December with his degree in accounting and business and administration, he knew as a high school student that SUNY Plattsburgh and the SBE would be his choice.
"I choose Plattsburgh because of the exceptional experience I had on the high school students' weekend visit," he said. "I heard about the amazing program at the School of Business and Economics. I knew that I wanted to be an accounting major, and after hearing about the accounting program here, I thought it was the perfect fit."
After his many experiences in the business world, Nartey-Tokoli said he plans to work as an asset wealth management or investment banking analyst. The Forbes Scholar honor is icing on the cake.
"I've always been a dreamer, but I made sure I put action behind my dreams so that they'd come true," Nartey-Tokoli said. "I knew that I'd be honored by Forbes at some point in my life; I'll admit that I didn't expect it to be this early."