Jump to Footer
SUNY Plattsburgh Salutes Fall 2005 Senior Spotlight
---
Kathleen Stone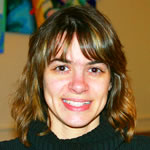 Kathleen Stone, a geology major, transferred here from Clinton Community College (CCC), where she was the valedictorian of her class. Stone started her college career a little later than most, and at the age of 30, will receive her bachelor's degree at Winter Commencement.
"It's been challenging and wonderful for my self-esteem and confidence," said Kathleen. "It has done a lot for me as a person."
Stone is the mother of two - a son, Austin, who is in the fifth-grade, and a daughter, Colette, who is four-years old. Her husband, James, works at Wyeth. Prior to going back to school Kathleen was an accounting clerk.
"I was in a dead-end job. I saw no future, and I wanted to better myself."
While going to school, she has also taught Math 101 at CCC as well as worked in the geology labs at SUNY Plattsburgh.
"When you're an adult student, its definitely challenging. I've had to have really good organization of my time."
She has decided to get her master's in teaching, with the hopes of becoming a secondary education science teacher.
"I've learned a lot more about myself. My experience here has been better than my expectations."
Daniel Christie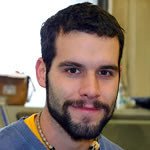 Daniel Christie, from Syracuse, N.Y., is a regular in the ceramics studio in the Myers Fine Arts Building.
An art major with a concentration in ceramics, Christie said that he has enjoyed his time at SUNY Plattsburgh.
"I was able to grow quite a bit here," said Christie. "I connected with a lot of professors here. The art faculty is really reliable for their guidance."
He plans to continue working in ceramics and is applying for residencies and graduate schools where he can continue his work.
Christie was commissioned to make cups for the Koffee Kat, a coffee house in downtown Plattsburgh. He has also been active with the North Country Cultural Center.
"I've taught ceramics to elementary students as part of a 21st. Century Grant through the cultural center," said Christie. "I also teach private lessons through the center."
Kristin Spring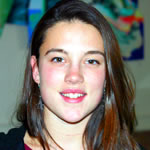 Kristin will have the honor of being the first student to receive her bachelor's in environemental science with a concentration in Ecology).
Spring, from Washingtonville, N.Y., has applied to Columbia Teachers College in hopes of attending graduate school for teaching.
"My science and history professors were the most supportive and encouraging people I've come to know in life," said Spring. "They have helped me through every step with complete faith that I would complete the task at hand."
Spring is a member of multiple honor societies at Plattsburgh State. She has been inducted to Phi Eta Sigma (freshman honor society), Phi Alpha Theta, (history honor society), Sigma Xi (scientific research society), and Omicron Delta Kappa (national leadership society).
Spring hopes to one day pursue a career teaching biology.
Rebecca Turner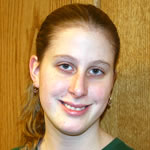 Rebecca Turner from Peru, N.Y., is a mass communications major and will be graduating Summa Cum Laude (highest honors) with a GPA over 3.9.
"Plattsburgh State has been a great experience," said Turner. "Two teachers, Professor Tim Clukey and Dr. Jin Kim, have inspired me to try my hardest at all I do."
Turner has been inducted into two honor societies, Lambda Pi Eta (communications honor society), and Phi Kappa Phi (national academic honor society).
She plans on returning to school after graduation in order to pursue a degree in nursing.
Orin Swanton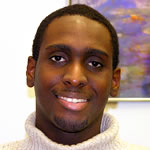 Orin Swanton, a computer science major, was questioning his decision to come to Plattsburgh about this time of year during his first semester.
He was used to 95-degree days at his home in Trinidad in the Caribbean. It didn't take him too long, however, to become acclimated to the North Country winters and to SUNY Plattsburgh.
"Soon as I felt the weather, I called home," he said. "But then I started getting more involved. I started up a club called the Afro-Brazilian Capoeira Club and became involved in the Gospel Choir."
He received the Marlene Fields Award for outstanding member in the choir last semester. He was the first male to receive this honor.
Swanton is a resident assistant in Mason Hall and works for the Career Development Center on campus.
Through these extracurricular experiences, he's been able to use his computer science knowledge.
"I prefer Web applications and Internet technologies," said Swanton. "I learned a lot because of my involvement with these clubs, and I applied it to my classes."
This past summer, he interned with Wyeth in the Drug Safety Information Center.
Following graduation, he hopes to work for a year and then go on to graduate school.
"I took a bio class from Dr. (Donald) Slish, and I became interested in bioinformation technology. This is where I would like to end up 10 or 15 years down the line."
Cherese DeRoche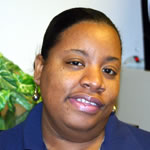 Cherese DeRoche, a senior from St. Vincent and the Grenadines, will graduate with a bachelor's degree in marketing and a minor in Africana Studies.
DeRoche came to Plattsburgh from St. Vincent Community College, where she graduated in 2001 as the valedictorian. Since her arrival at SUNY Plattsburgh, DeRoche has been involved in leadership positions throughout campus. She has held many positions with the Student Association, including senator and Organizational Affairs Board member. She is currently the vice president of Student Activities.
She is a resident assistant in Kent Hall and has been both the vice president and president of Club Caribbean, and manager of the Gospel Choir.
"I learned so much about leadership at Plattsburgh," she said. "My involvement here has given me opportunities I never thought would happen."
DeRoche is a member of the national leadership honor society Omicron Delta Kappa and has received awards for her involvement with the Student Association.
Still looking for the perfect job, DeRoche hopes to attend graduate school in fall 2006. She is looking at Penn State and SUNY Binghamton.
"My time here was great," said Deroche. "I learned how to think big, and got so much support from everyone here at Plattsburgh."
Jamie Prudhomme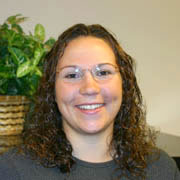 Originally from Cohoes, N.Y., Jamie knows the meaning of managing her time.
As a biology major who will be graduating Magna Cum Laude and a Lady Cardinal for the Plattsburgh State Women's Softball Team, Prudhomme has plenty on her plate.
Prudhomme said her busy schedule has helped her excel in both academics and athletics.
"Being involved in sports on campus makes it so much easier to manage your time," she said. "Being engaged in clubs and organizations on campus leaves you no time to procrastinate and helps you do better in school."
Prudhomme hopes to work in the biology technology industry for a year before continuing on to graduate school.
"The experience I have had at Plattsburgh State has been great," said Prudhomme. "Between the professors and the friendly community, I am definitely going to look back on my time here very pleased with what I have accomplished."
Contact Information
If you would to see some of the things that SUNY Plattsburgh students do both in the classroom and out of the classroom, we invite you to learn more about Student Life .