Jump to Footer
New University Police Officer Sworn In
---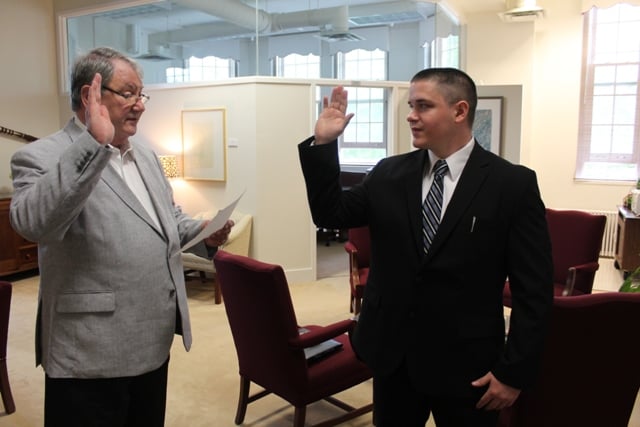 SUNY Plattsburgh President John Ettling presided over the swearing-in of new University Police Officer Kyle Carter Friday morning, June 1, in the Office of the President, Hawkins Hall.
Carter's appointment brings the number of UP officers to 16. The SUNY Plattsburgh Class of 2016 graduate majored in criminal justice and said he comes from a long line of law-enforcement family members.
"Every one of my uncles on my mother's side is a correction officer, and I have several state troopers in my family as well," Carter said. He also said joining the ranks at SUNY Plattsburgh was a natural fit.
"Being a recent graduate, I'm familiar with campus. It's where I grew up; I have a natural attraction to the area," he said.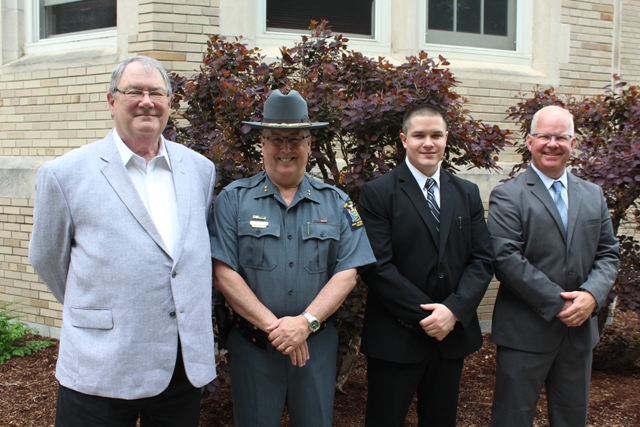 Carter's swearing-in came on the same day it was announced that Patrick Rascoe was named new chief of University Police.
"We're very glad to have Kyle join University Police," Rascoe said after the official ceremony. "But we're saying goodbye today to another member of the department."
Assistant Chief Patrick Keleher's last official day on the job was Friday. He's retiring after nearly 31 years in law enforcement, the last three and a half with SUNY Plattsburgh. Keleher retired from the New York State Police as a senior investigator in charge of Bureau of Criminal Investigations operations out of the Lewis, N.Y., barracks.
"I'll miss the people here," Keleher said. "I feel the same way I felt when I left the state police. SUNY Plattsburgh is a great place to work. I've enjoyed my time here."