Jump to Footer
Get Involved
---
See Something? Do Something.
If you see someone in harm's way or making an effort to cause harm, we ask that you get involved in helping. Never put yourself in harm's way to intervene, but there are specific things you can do to make sure intervention occurs:
Don't assume someone else will help. It is better to have multiple people stepping in or seeking emergency assistance than none.
Point to individuals with very clear directives on what to do, such as: "You, call 911."
Don't walk away because it isn't your business. Any violence or harm on campus affects all SUNY Plattsburgh members.
Ways to Get Involved
---
To start, get educated about forms of violence, gender discrimination and resources.
Jump to the following resources:
Violence Prevention Education Resources
---
Bystander Intervention
---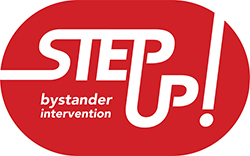 Step UP! Bystander Intervention Tools
Don't put yourself in harm's way to intervene. There are actions you can take to make sure intervention occurs and we are here to help you.
At some point in your life, you may have observed situations where an individual or individuals were in harm's way and found yourself not doing anything. This situation could have been preventable if you acted or said something sooner. You are not alone. Many of us have found ourselves in this situation, maybe even more than once.
Step UP! Training & Education
---
Groups and individuals on campus are encouraged to request and participate in Step UP! training and education sessions.
To request Step UP! Bystander Intervention training for your club, organization, department, fill out the form below. Requests must be made at least two weeks in advance. The preferred date is not guaranteed; however, the Title IX office will do our best to accommodate. Minimum of eight participants.
Step UP! Bystander Intervention Training Form
To get involved or learn more about the Step UP! campaign at SUNY Plattsburgh, contact Zyaijah Nadler by email at [email protected]
Be a Leader. Make a Difference!
Did you stand up for what was right and prove that Cardinals are UPstanders? Did you see someone intervene? Help us highlight upstanders against violence and discrimination.
Internship Opportunities
---
The Title IX office offers four different internship opportunities for SUNY Plattsburgh students. While the Title IX internship is currently unpaid, the office strives to ensure students are compensated through academic credit for their time in the office.
Students interested in interning in the Title IX office for academic credit should communicate with their academic advisor(s) to determine if it fits within their major and/or minor requirements. After given approval from their academic advisor, the student is responsible for identifying a faculty supervisor for the length of the internship.
PEDAL — Peer Educator Program
---
As an educational institution, our primary goal is to rewrite the narrative of what prevention should look like.
PEDAL is the SUNY Plattsburgh violence prevention peer educator program. The peer-to-peer program is dedicated to preventing violence through educational opportunities that engage peers. In order to dismantle a culture of violence, educators raise awareness and empower others to leave a legacy of non-violence in the world.
PEDALS are student change-makers at SUNY Plattsburgh. Through their natural and trained skills, they encourage students to make a difference on campus through education on violence prevention and discrimination.
Why Become a Peer Educator
Gain leadership experience
Gain and improve public speaking skills
Opportunity to meet new people
Learn to address and prevent violence
Leave a legacy at SUNY Plattsburgh