Jump to Footer
Rugby Clubs
---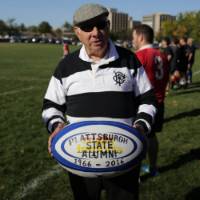 Founded by Professor Jack Frisch in 1966 (give or take a year), SUNY Plattsburgh rugby team members and alumni have enjoyed playing this magnificent sport in the North Country and around the world, for over 50 years!
53 Years of Tradition
---
Thanks to support from SUNY Plattsburgh, the Student Association, and our alumni, our rugby clubs at SUNY Plattsburgh have come a long way since 1966.
Our rugby clubs and players benefit from:
Access to a well maintained and dedicated pitch;
Guided and instructed by trained and certified coaches;
New safety and training equipment such as rucking shields, tackling bags, and ruck/scrum sleds
Please take some time to explore our pages, learn more about our clubs, and look for opportunities participate as a player, a fan, a friend, or an alumnus.
Rugby is now played in more countries around the world (123!) than ever before, boosted by record funding through the World Rugby Development Programme (£8.9m); Regional Tournament Funding (£3.8m) and High Performance Programme (£7.3m).

---

2016 World Rugby Participation Map
Men's Rugby Club
The Men's Rugby Club is a member of the National Small College Rugby Organization (NSCRO) in Region One, the Up State Conference (UpSCRC). During the fall, they participate in the Up State Small College Rugby Conference league games. The spring schedule is made up of both scrimmages and tournaments.
Women's Rugby Club
The Women's Rugby is a member of the Upstate New York Collegiate Rugby Conference and play in the National Small College Rugby Organization (NSCRO) North League. During the fall, they participate in conference games and in the spring they participate in tournaments.