Jump to Footer
Marksmanship Club
---
New students are always welcome to join. No experience necessary and all equipment is provided.
The marksmanship club competes in the MAC Rifle Conference against other colleges and universities such as SUNY Maritime, Harvard, Wentworth and John Jay.
They also compete in the National Rifle League (all home matches) against other clubs around the country and in rifle matches hosted by the Plattsburgh Rod and Gun Club.
Members compete and practice with .22-caliber and air rifles indoors at the Plattsburgh Rod and Gun Club. Our season starts in August and ends in early April. New students are always welcome to join; there is no experience necessary and all equipment is provided.
Operating Guidelines
---
View Clubs Sports Rules and Guidelines
Marksmanship Coaches & Student Contact
---
Coach
Peter Visconti
[email protected]
Peter C. Visconti, Esq, a former collegiate shooter and experienced coach was named the head coach of the Plattsburgh State Marksmanship Club in January 2017. A graduate of St. Johns University and Law School, Visconti was a member of four of St. John's NCAA championship invitations from 84-87 and a member of four MAC championship teams, and earned individual all-conference honors. Visconti began his shooting career for NHP Memorial HS where he still holds the prone average record.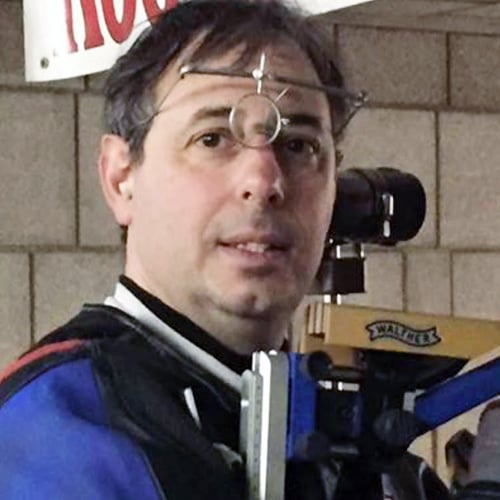 Visconti has participated in several Empire State Games, earning several medals, while also representing the New York State Marksmanship Team at the 1985 National Championships at Camp Perry. Visconti's junior team took first place in the nation in both the Iron and Any Sight Class. He has also earned several New York state Shooting Festival medals.
Visconti has previously coached at both the high school and college level, serving as an assistant coach at NHP for four years from 1983-1987, then as head coach at East Meadow from 1987-1990. Going undefeated in league competition during those seven years. From 1990-1991 he served as head rifle and pistol coach for the USMMA, Kings Point. He has served as the junior shooting coach for the Plattsburgh Rod and Gun Club Jr. Rough Riders since 2010. He also served on the staff for the BSA's National Camping School's shooting sports division from 1988-1990.
Visconti earned a degree in business administration from St. Johns University and a law degree from St. Johns School of Law in 1990. He is admitted to practice law in the state of N.Y. and currently serves as a law enforcement officer for the Department of Homeland Security.
He competes out of the Plattsburgh Rod and Gun Club along with his wife, Karen, and daughters Amy and Holly. His son, Andrew, shoots for Wofford University.
Assistant Coach
Tom Pilsworth
[email protected]
Assistant Coach
Erich Pflanz
[email protected]
Student Contact
President: David Ehrensbeck
[email protected]