Jump to Footer
Staff
---
Brooke Layhee, Coordinator of Study Away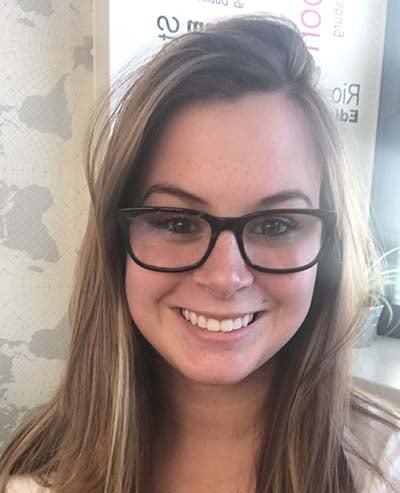 Office: 1002 Kehoe
Phone: 518-564-3287
Email: [email protected]
As the coordinator of study away, I oversee program administration, planning, budgeting, marketing and recruitment and advise on all study away programming. My goal is to get you out into the world! This could be a short-term, semester-length, or academic year study abroad through one of our 17 international partners, or a study away experience at another university in North America through our National Student Exchange program. With over 700 programs in SUNY, there really is something for everyone! Our office will also assist with your preparations before you leave via our extensive pre-departure orientation and will assist with your credit transfer upon return.
Academic credentials: M.S. in student affairs and higher education and a B.A in mathematics, both from SUNY Plattsburgh.
Personal biography: I'm a Plattsburgh native, growing up not too far outside of the city. I absolutely love where I'm from and having grown up in the Adirondacks is what inspired me to want to see more. My family is what drove my desire for travel and we took advantage wherever possible. I knew in high school that I wanted to study abroad during college — so that is what I did! It led me to my passion for international education, where I can work with college students looking for a life changing experience. After graduating from SUNY Plattsburgh, I found my graduate program here at Plattsburgh, which ultimately led to my career here in the GEO office!
Places I have visited: I absolutely love traveling and exploring new areas! When studying in England, I traveled throughout Europe as much as possible, including Scotland, Ireland, Portugal, Spain, Germany, and I spent over two weeks in Italy, with some time in a little Italian villages with friends over the holidays. I've also traveled quite a bit within the U.S with my family, including Hawaii, cities in Canada, and other countries like Mexico, the Bahamas, Bermuda, and the Dominican Republic. I hope to expand my travels further west in the U.S and across Europe into Asia as soon as I can — or anywhere I can get myself to!
Favorite SUNY Plattsburgh activity: Of course studying abroad was my absolute favorite activity! I truly believe this activity solidified my future career path and life goals. This could be the same for you! While here though, I really enjoy the many different events taking place across campus. I suggest stepping out of your comfort zone and going to a club's event you may not normally attend, or looking for different ways to get involved to enrich your experience as much as possible.
Favorite experience as GEO staff member: I love watching the transformation in students, from being apprehensive about the journey they are about to embark on, to the pure confidence they have when they return. They've often caught the travel bug too and they're excitedly awaiting their next adventure. I get to see that passion grow and develop within them, which is extremely rewarding.
Best advice for prospective study abroad students: As one of my favorite professors from graduate school said, "tolerate the distress", and I've found this applies to a lot in life. We are here to support you through something that is very much "the unknown". It is "the unknown" for many. Do not let that hold you back! Embrace it! You'll be surprised with how quickly you learn and grow throughout this process. Take the leap! You'll certainly be glad that you did.
Sarah Erno, Graduate Assistant
Office: 1001A Kehoe
Phone: 518-564-3287
Email: [email protected]
As the graduate assistant in study away, my job is to provide students with a helping hand in preparing for choosing a study away program that fits their needs. I assist students in the application process and prepare students with pre-departure information so that they are ready to take off for their new adventure.
Academic credentials: B.A. in psychology, SUNY Potsdam and a M.S. in student affairs and higher education, SUNY Plattsburgh (continuing)
Personal biography: I grew up in a small town, Mechanicville N.Y., where I learned a lot about my love for working with people and providing a helping hand. I absolutely love autumn and the fall season, as it reminds me of home, soccer and football! I have gone to Lake Placid every year for vacation, so the Adirondacks are very nostalgic for me. My family and two dogs are my everything and I enjoy almost everything the world has to offer. I am also a foodie.
Places I have visited: I have been to Canada for soccer games, but did not have an opportunity to explore as much as I wanted to. I've recently embarked outside of the country this past summer (August 2022) to Bermuda and it was so much fun. I would like to travel to Ireland one day, along with England, Australia and Japan.
Favorite SUNY Plattsburgh activity: I really enjoy taking walks around the campus with my pups. I am excited to see the leaves change and feel the cool weather again. Plattsburgh and the surrounding areas are great places to enjoy the snow, which I also love — whether it is snowboarding or playing outside with my dogs, it is always a great part about being in the North Country.
Best advice for prospective study abroad students: "Embrace the unknown" – Jacqueline Vogl. There is so much world to see, so go outside of your bubble and jump into adventure! Life is so much fun and college is all about experiences — make moments you will be proud to share. The study away team is always happy to answer questions and provide support as well, so please don't hesitate to reach out! As a wise and dear friend once said to me, "let's go exploring".