Jump to Footer
Matthew E. Salvatore
---
Adjunct Lecturer of Sport & Wellness Fitness Center Director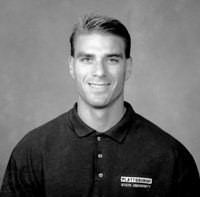 Matt Salvatore manages all operational aspects of the college's comprehensive Fitness Center and Climbing Wall Programs. A 1990 graduate of SUNY Brockport, Salvatore received his BS in Physical Education, with a concentration in exercise physiology and adult fitness. He received his MA in Leadership and Administration with a concentration in Management from Plattsburgh State University in 2002.
Salvatore is a Certified Strength and Conditioning Specialist (CSCS) with the National Strength and Conditioning Association and is certified as a Personal Trainer with the Aerobics and Fitness Association of America (AFAA). He is AED, CPR, and First Aid certified as well. He is additionally certified to instruct Spinning classes.
Salvatore teaches classes within the Fitness and Wellness Leadership Major and Personal Trainer Minor in both the classroom and web environment. He also serves as a site supervisor for student interns completing their Personal Training minor requirements.
Prior to his appointment in 1994 at Plattsburgh State as Fitness Center Director, Salvatore was a Fitness Specialist at the Eastman Kodak Company in Rochester, New York.
Education
M.A. in Liberal Studies with a Concentration in Management, State University of New York College at Plattsburgh, 2002
B.S. in Physical Education with a Concentration in Exercise Physiology — Adult Fitness, State University of New York College at Brockport, 1990
A.S. in Liberal Arts, Physical Education, Genesee Community College at Batavia, New York, 1988
Teaching Areas
Exercise Program Design/Fitness Programming
Personal Training Minor Internship Site Supervisor
Professional Affiliations
Certified Strength and Conditioning Specialist (NSCA-CSCS)
Personal Trainer/Fitness Counselor, Aerobics and Fitness Association of America (AFAA)
Personal Trainer, American Council on Exercise (ACE)
AED, Adult CPR, American Red Cross
Certified Spinning Instructor, Mad Dogg Athletics
Member — National Strength & Conditioning Association (NSCA)
Member — American College of Sports Medicine (ACSM)
Member — Aerobics and Fitness Association of America (AFAA)