Jump to Footer
Student Profiles
---
Meet our nursing students!
Alissa Shinder
---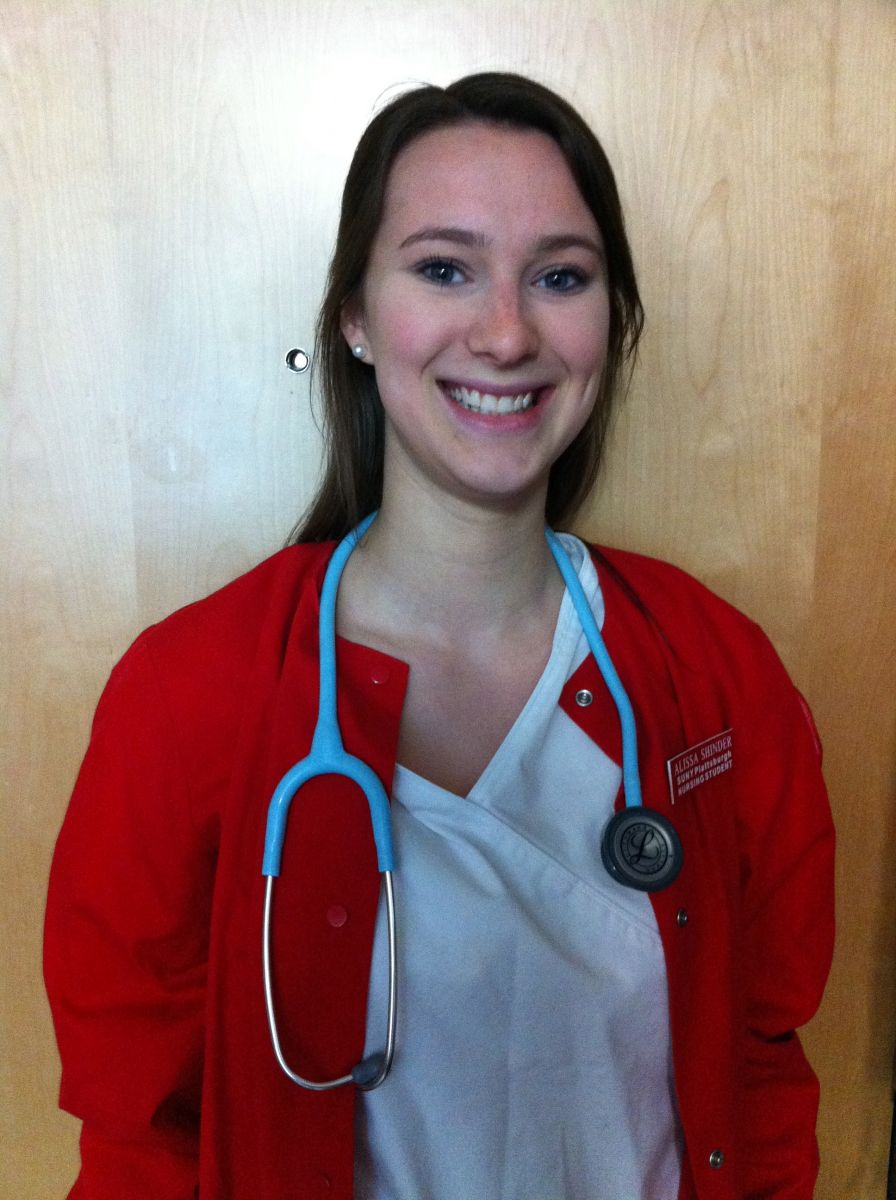 My name is Alissa Shinder and I am from Buffalo, NY. I am currently in my second year of the nursing program at SUNY Plattsburgh. When I visited Plattsburgh for the first time, I instantly felt at home. The nursing faculty welcomed me by giving me a detailed tour of the nursing department and the beautiful surrounding campus. I loved that various nursing professors already knew who I was, even before I started school in the fall. I ultimately chose SUNY Plattsburgh because I knew that I would have a personalized experience with all of my professors. My experience in the nursing program has far surpassed any expectations I had for my education. My favorite part about the nursing program is the connections that I have formed with my professors and my fellow classmates. I have a tight knit "family" with all of my nursing classmates.
Through the nursing program at SUNY Plattsburgh, I have gained friends that will support me not only throughout my college years, but for the rest of my life as well. Various nursing professors have also impacted my life in a major way. There is never a dull moment at SUNY Plattsburgh. With all of the clubs, organizations, sports, intramurals, and academics offered, you will never be bored. I have climbed to the top of a mountain, volunteered in the community, jumped in Lake Champlain in the winter to raise money for the Special Olympics, and performed at campus events. All of my experiences at SUNY Plattsburgh will help me in my future nursing career.
My involvement as president of the Student Nurses Association at Plattsburgh State (SNAPS) has allowed me to gain friends from other nursing classes and has guided me to participate in various campus and community events. SNAPS is a great way to volunteer and fundraise money for a variety of walks such as the. Through SNAPS, I have also had the opportunity to hear inspiring speakers and volunteer for the Buddy walk and the Breast Cancer walk, as well as at a soup kitchen. I have been a Student Ambassador for the SUNY Plattsburgh Alumni Association, which has helped me to network with SUNY Plattsburgh alumni that can help me find graduate school opportunities and nursing jobs in the future. Every extra-curricular activity I have done has shaped my college experience. I am extremely thankful to everyone at SUNY Plattsburgh who has impacted my life in such a great way.