Jump to Footer
Wilderness First Responder Courses
---
Learn all about what to do in an emergency when 911 isn't available.
Why Wilderness First Responder?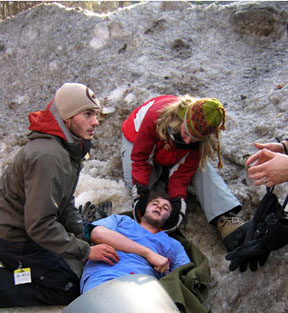 If you know about Wilderness First Responder (WFR) courses, you know what to expect. If you haven't, but travel or work in the outdoors, this is a must-take course. It's wilderness medicine for people who want to be safe in places where "911" isn't available.
The Curriculum
The team from SOLO offers an extensive curriculum, including CPR certification and covers topics ranging from patient assessment, splinting, wound care, cold and heat emergencies, burns, pharmacology, and care of the C-Spine to an introduction to neuro-exams in remote settings.
"I was able to see for the first time the importance of wilderness knowledge!" — Ian Ater, Wilderness First Responder '03
One of the hallmarks of this course is that all skills will be practiced in field exercises. This is a three-credit, upper level course (EXP 360) for those interested in course credit.
The Big Picture
As with all SOLO courses, the emphasis on this course is on the overlying topics: prevention of wilderness industries, learning skills for wilderness medicine, and practicing wilderness medicine skills and evacuations. The 8-day class includes lectures, skill stations, and a mock rescue "final."
Certification
Successful completion of the written and practical final exams grants the internationally recognized certification of "Wilderness First Responder."
Meeting Dates and Times
January 18–25, 2020
Time: 8 a.m.–6:30 p.m.
Cost: $700 (non-credit); $757 (estimated cost with college credit).
Instructors: Staff of SOLO.
Register For Wilderness First Responder
If you are a SUNY Plattsburgh student, you can register for the course through Banner.
If you are not a current student, please email Jerry Isaak, Expeditionary Studies Chair, at

[email protected]

.