Jump to Footer
Don Mellor
---
Climbing Instructor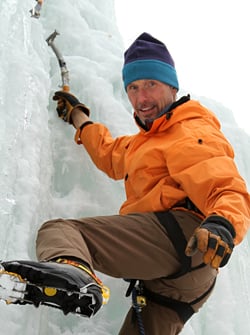 Don Mellor is a climber, teacher, writer, and guide who has more than forty years climbing in the Adirondacks and beyond. His resume ranges from multi-day ascents of the biggest rock walls in Yosemite to first ascents of ice routes in Newfoundland. Locally, he's done more than a hundred first ascents, including Big Brother (NEI 5), Airie on Moss Cliff (5.12) and the first free ascent of Mental Blocks (5.12) on the big backcountry cliff of Wallface.
Among his published books are four rock and ice guides to the Adirondacks, the instructional Rock Climbing: A Trailside guide, and cultural studies American Rock and Alpine Americas. He serves as a volunteer for the DEC high-angle rescue team, the peregrine falcon restoration project, and the steering committee of the Lake Placid Outing Club.
Don lives in Lake Placid, where he serves as English teacher and school counselor at Northwood School.
Education
M.S.Ed. in Education and Counseling, St. Lawrence University
B.A. in English, University of New Hampshire
Teaching Area