Jump to Footer
Steven Maynard
---
Head Paddling Instructor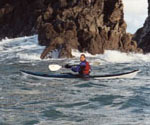 Steve has been working as an outdoor educator since 1987. He has been lucky enough to learn from and work with some of the best practitioners in the field. He has worked with a wide variety of clients in multiple land and water based disciplines all in some of the most spectacular locations Europe and the Americas have to offer.
Steve's specialization is Paddlesport but his professional resume includes many activities including skiing, backpacking, climbing, navigation, outdoor living skills, personnel development, youth work, problem solving.
Steve started kayaking on remote sea lochs in North West Scotland. Since then he has paddled, guided, coached and been coached extensively in the United Kingdom, and throughout Europe and the Americas.
Steve holds qualifications in many adventure sports, including sea kayaking certifications at the highest level from the British Canoeing and the American Canoe Association.
After nearly 20 fun filled years of being constantly on the move Steve took a "Proper Job" with the Expeditionary Studies B.S. at SUNY Plattsburgh. He is currently the head of paddle sports and outdoor living skills for Expeditionary Studies. In his spare time continue to teach classes for other paddling schools, present at kayak symposiums, organizes/works on BC and ACA certification courses, and is continuing his learning through studying for a Masters in Performance Coaching.
One of Steve's biggest pleasures in life is helping people improve their understanding of technique, tactics, and environment to enable them to have more fun, do more, and be safer in the outdoors.
Certifications
Sea Kayaking Certification, Level 3, Level 5, British Canoe Union
Sea Kayaking Certification, American Canoe Association
Teaching Areas
Expedition Experience
Expedition Planning
Technical, Tactical, Physical, and Psychological aspects of Paddlesport
Paddlesport Leadership
Paddlesport Touring
Movement & Balance in Paddlesport
Technical, Tactical, Physical, and Psychological aspects of Outdoor Living
Performance Coaching