Jump to Footer
Jerry Isaak
---
Chair of Expeditionary Studies
Associate Professor of Expeditionary Studies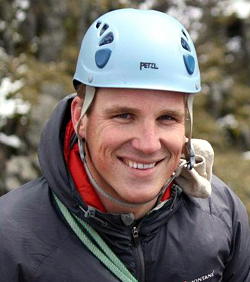 Jerry grew up in the Fraser Valley, British Columbia and is a graduate of the Thompson Rivers University Adventure Guide Diploma program. He received an M.Sc. with distinction in Outdoor Education while studying as a Rotary Ambassadorial Scholar at the University of Edinburgh (Scotland) and has worked as an expedition leader and guide in Canada, the USA, Morocco, Scotland, Austria and the Arctic. Personal climbing and skiing expeditions include journeys in Kenya, Nepal and throughout North America.
Jerry's research interests are in the areas of outdoor education, social influences on risk tolerance levels and decision making, and educational expeditions.
Education
M.Sc. in Outdoor Education, University of Edinburgh, Scotland
Thompson Rivers University Adventure Guide Diploma
Teaching Areas
Expedition Theory & Planning
Rock Climbing
Ice Climbing
Backcountry Skiing
Avalanche Processes & Leadership
History and Culture of Expeditions
Adventure Leadership
Research Areas
Educational Expeditions
Outdoor Education
Social Influences on Risk Tolerance Levels and Decision Making
Selected Publications
Isaak, G. (2014). Beyond meaningless leisure: John Dewey's influence on the Eastern Oregon University Outdoor Program. Journal of Outdoor Recreation, Education and Leadership, 6(1), 88-94. http://dx.doi.org/10.7768/1948-5123.1195
Isaak, G. (2013). Decision-making and social media: The Millennial generation's persistent weak layer. The Avalanche Review, 32(2) 24-25.
Isaak, G. (2011). Balancing more than backpacks: Communitarian ideas applied to educational expeditions. Australian Journal of Outdoor Education, 15(2), 3-12.