Jump to Footer
Jerry Isaak
---
Chair of Expeditionary Studies
Associate Professor of Expeditionary Studies
Academia and adventure merge in the Expeditionary Studies Department at SUNY Plattsburgh. The faculty of this unique department bridge these fields with high levels of accomplishment and practice in both. The department chair, Jerry Isaak, is an expedition leader, educator, interdisciplinary scholar, and the administrative director of the expeditionary studies program. His formal education and training began in the adventure studies program at Thompson Rivers University, in Isaak's home province of British Columbia, Canada. He then completed graduate studies at the University of Edinburgh as a Rotary International Ambassadorial Scholar in Outdoor Education in 2012. During this time, he also served as the chief mountain leader of a large arctic youth expedition with the British Exploring Society, with support from the University of Edinburgh's highly competitive Innovation Initiative Grant.
Isaak continues the practice of adventure education scholarship and application through regularly publishing in peer reviewed and professional journals, such as the Journal of Experiential Education, the Journal of Outdoor Recreation, Education and Leadership, and the American Avalanche Association's The Avalanche Review. He is a Fellow of the Royal Geographic Society and is a regular presenter at national and international conferences, including the Wilderness Risk Management Workshop and the International Snow Science Workshop. His presentations focus primarily in the areas of avalanche education, decision-making in extreme environments and the pedagogy of educational expeditions within higher education.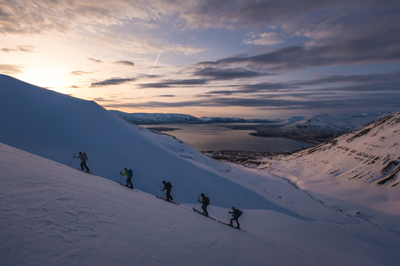 In his teaching practice, Isaak merges on-campus courses with annual international expeditions and field courses, with a particular emphasis on backcountry skiing, avalanche education and cultural exchange. Recent expeditions with SUNY Plattsburgh include journeys in Kyrgyzstan, Nepal, Japan, Scotland, and Iceland. Additionally, he has worked with expeditionary studies students, at both the undergraduate and graduate level, to plan and complete more than 90 student-led expeditions over the past five years. These credit-bearing expeditions range from week-long journeys in New York's Adirondack Mountains to month-long treks above the Arctic Circle in winter and remote whitewater packrafting descents in western Nepal. For his commitment to furthering student field learning and experiential education, Isaak received the inaugural SUNY Plattsburgh award for Outstanding Mentorship in Applied Learning in 2017.