Jump to Footer
3+4 Programs at St. George's University
---
SUNY Plattsburgh has signed two articulation agreements with the St. George's University: a 3+4 accelerated program in medicine (M.D.) and a 3+4 accelerated program in veterinary medicine (DVM).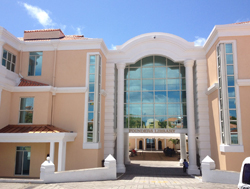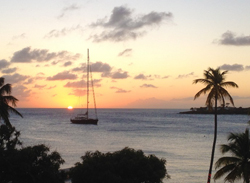 3+4 Accelerated Programs
These programs are designed to allow qualified students to apply the SGU after their sophomore year and enter medical or veterinary school at the SGU after 3 years in the B.A. of biology program at SUNY Plattsburgh. This has the advantage of saving one year's tuition to SUNY Plattsburgh.
SGU Admissions Requirements
---
SGU will consider for conditional acceptance into the first year of instruction all students who have successfully completed the SUNY Plattsburgh portion of B.A. of biology degree (approximately 103 credits) provided the following conditions have been met:
The satisfactory completion of the SUNY Plattsburgh portion of B.A. of biology curriculum with a minimum GPA of 3.40.
The applicant must achieve a competitive score on the Medical College Admission Test (MCAT). A competitive score is defined as a score within 3 points of the prior terms average MCAT score for matriculated students at SGU.
In order to be eligible for entry into the SGU School of Veterinary Medicine, students must maintain a GPA of at least 3.4, while enrolled at SUNY Plattsburgh, and obtain a competitive Graduate Record Examination (GRE). A competitive score is above 290.
In addition to the above-referenced minimum GPA, MCAT and GRE requirements, in order to be promoted to SGU, qualified SUNY Plattsburgh students must meet all admission criteria of SGU School of Medicine or SGU School of Veterinary Medicine, and the SUNY Plattsburgh Pre-Health Professions Advisory Committee will provide a letter of recommendation for the student.
SGU School of Medicine and SGU School of Veterinary Medicine will select suitable candidates that meet their respective standards and establish dates for promotion interviews. An offer of admission to SGU School of Medicine or SGU School of Veterinary Medicine, pursuant to this program, will only be made to qualified students, who satisfy all respective admissions requirements, after a promotion interview is conducted by SGU. Interviews will be conducted by SGU at SUNY Plattsburgh and/or via the Internet.
Degree Granting
---
The Bachelor of Arts/Science in Biology will be conferred by SUNY Plattsburgh to students enrolled under this agreement after successful completion of the first year study at SGU.
Degree Plan for Non-Matriculates and Non-Successful Matriculates
---
Should a candidate enrolled in the pre-professional program at SUNY Plattsburgh not be accepted to complete his or her final undergraduate requirements at SGU, SUNY Plattsburgh will provide a seamless alternative for that student to satisfy all of the remaining requirements for the undergraduate degree.
The same provision will be made for students who are conditionally accepted to continue their studies at SGU but fail to satisfactorily complete their first year of study.