Jump to Footer
3+4 Optometry with SUNY Optometry
---
This program option provides for three years of study at SUNY Plattsburgh followed by four years of study at the New York State School of Optometry. If you are sure that you want to be an optometrist, this is a great opportunity to achieve your goal while saving one year's tuition.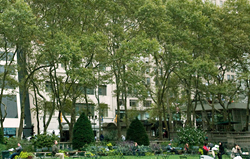 Qualified applicants must be freshmen or sophomores and meet minimum criteria for high school, SAT/ACT, and college achievement (see below). Candidates will be interviewed by the Pre-Health Professions Advisory Committee on campus and a representative of the New York State School of Optometry.
Upon successful completion of the first year of study at the New York State School of Optometry, students will be awarded the B.A. in Biology from SUNY Plattsburgh.
The curriculum of study at Plattsburgh includes the general education program plus basic courses in biology, chemistry, physics, and calculus.
Minimum Criteria for Acceptance
---
If applying as an incoming freshman: High school transcripts must have a 92% or better average and SAT score minimum is 1300 total (at least 670 math and 550 Verbal) or an ACT minimum of 32.
If your high school grades or SATs were not this good, you can still apply in your sophomore year, after you have a record of achievement at SUNY Plattsburgh. If this is the case, you must have ≥3.3 overall GPA, ≥3.3 CUM in math and science courses, and no grade in these math and science courses.
To Apply
---
In order to apply, you will need to submit a file to the PHPAC with the following information:
A letter of intent describing optometry, the role of the optometrist, and your reasons for wanting to enter this profession (1–2 pages).
Documentation of minimum criteria (official high school transcripts and SAT/ACT scores or SUNY Plattsburgh transcripts).
When your file is complete, the PHPAC will interview you to access maturity and motivation to become an optometrist. The PHPAC will then set up an interview with the candidate and a representative of SUNY Optometry.
After Acceptance
---
Candidates who successfully entered this program will be monitored to ensure that they stay on track to matriculate to SUNY Optometry after their third year. Candidates will meet with a member of the committee at the beginning of each semester to review grades and other optometry related activities (shadowing local optometrists, etc.). Please let me know if you are interested in applying to this program. You are welcome to come by my office in 325 Hudson Hall at any time.