Jump to Footer
3+4 Program with New York College Podiatric Medicine
---
SUNY Plattsburgh has signed an articulation agreement for a 3+4 accelerated program with the New York College of Podiatric Medicine.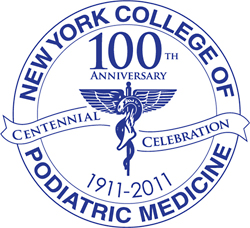 Podiatric medicine focuses on the care and treatment of the foot, ankle, and lower leg. It is a branch of medicine similar to the classic allopathic M.D., but with a focus on the lower extremities. Students of podiatric medicine take the same courses as M.D. students with the addition of courses focusing on their specialty.
Any student with a B.S. that has taken the prerequisite science courses can apply to NYCPM, however, this accelerated program allows students to enter NYCPM after their junior year at SUNY Plattsburgh. Students will receive a B.A. in biology from SUNY Plattsburgh after successfully completing the first year of study at NYCPM.
Sub-specialties in Podiatric Medicine
---
Sports medicine
Dermatology
Diabetic wound care
Surgery
Podo-pediatrics
Geriatrics
Orthopedics