Jump to Footer
Dr. Douglas A. Graham
---
Professor Emeritus of Physics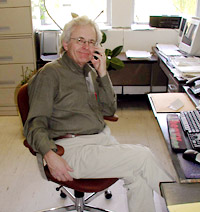 Dr. Douglas A. Graham has taught many courses in the physics curriculum, including general physics, modern physics, optics, electronics, mechanics, statics, and astronomy. In the past, he has taught several computer science courses, including FORTRAN, Pascal, Machine and Assembly Language, operating systems, and data structures.
As a part of his continuing scholarship, Doug Graham has traveled to several sites in northern Canada to set up and maintain magnetospheric research stations. He has also been to King George Island off the Antarctic coast twice to conduct airglow research.
Doug Graham is married and has two children. Activities he enjoys include travel, home improvements, and amateur radio.
Education
Research Associate, State University of New York at Albany, 1968–69
Ph.D. in Physics, University of Idaho, 1968
M.S. in Physics, University of Idaho, 1966
B.S. in Physics, Oregon State University, 1963
Teaching Areas
Introductory physics
Upper atmospheric physics
Optics
Electronics
Recent Publications
Co-author of several papers in the areas of aurora, airglow, and solar-terrestrial physics
Co-author of a General Physics textbook published in Japan (in English), "Physics with Computer Applications."