Jump to Footer
Dr. Charles List
---
Professor of Philosophy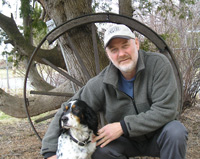 Charles List is a professor of philosophy and has been teaching at Plattsburgh since 1980. He likes to train bird dogs, tie flies, and fly fish.
Ph.D. University of Iowa
M.A. University of Iowa
B.A. University of Minnesota
Teaching Areas
Logic
Environmental Ethics
Nietzsche
Outdoor Ethics
Research Areas
Ethical evaluation of outdoor practices
Wilderness issues
Hunting ethics
Environmental Philosophy
Recent Publications and Presentations
Publications:
"The New Hunter and Local Food," inThe Oxford Handbook of Food Ethics, published by Oxford Press, 2018, New York, edited by Anne Barnhill, Mark Budolfson, and Tyler Doggett, 170–188.
"The Intrinsic Structure of Reality: Ontology and Deep Ecology" in The Trumpeter: Journal of Ecosophy, Vol. 31, No. 2 (2015)
"Gentlemen, Character, and the Ideal Hunter," forthcoming in Hunting and Academic Identity, published by South Carolina Press.
"An Ontology for the Land Ethic" Environmental Ethics, 37(4), (2015): 411–424.
Book review: Wildlife, Conservation, and Conflict in Quebec, 1840–1914, by Darcy Ingram in Environmental History, 20 July, 2015: 553–555.
"Rebuilding the Wholesome Machinery of Excitement: Virtue and Hunting," in Hunting and the Ivory Tower: Essays by Scholars Who Hunt, published by the University of South Carolina Press, Columbia, SC, 2018, edited by Douglass Higbee and David Bruzina, 181–192.
Presentations
"New Issues in Food Ethics" panel discussion: UVM Food Systems Summit, June 14, 15, 2016. Burlington Vt. Title: "If you are going to eat meat: hip hunters and local food."
Salon (author meets critics) at the University of Alberta, Edmonton, on my book, hosted by the Department of Sustainability. April, 22, 2014.
Keynote address: "Hunting, Fishing, and Environmental Virtue: Reconnecting Sportsmanship and Conservation." Fish and Wildlife Meeting 2014 of Province of Alberta biologists and administrators, Canmore, Alberta, April 22–24, 2014.
"Building an Ecological Conscience" Society for Ethics Across the Curriculum meeting, Corvallis, OR, October, 2013.
Awards
John H. Daniels fellowship on the connections between sportsmanship and conservation at the National Sporting Library and Museum, Middleburg, VA, spring semester, 2014.