Jump to Footer
Dr. Beth Dixon
---
Professor of Philosophy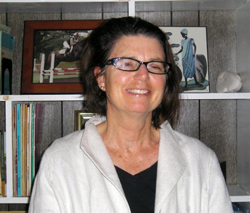 The idea that I try to consistently realize in my professional life is that philosophical reasoning and ethical inquiry are activities connected with our ordinary ways of living. At some point most of us will think about, wrestle with, or be puzzled by a philosophical issue. A professional philosopher can play the role of a guide to thinking clearly, thoroughly, and consistently about these ideas.
Perhaps the main insight that guides the way I teach is that philosophy is a kind of activity — a doing — and it is, additionally, a social activity.
My students are invited to own the philosophical inquiry that takes place in my classes.
Education
Ph.D., Univ. of Massachusetts at Amherst
M.A., Univ. of Massachusetts at Amherst
B.A., Univ. of California at Berkeley
Teaching Areas
Ethics
Emotions
Ethics and animals
Logic
Food Justice
Epistemology
Research Areas
Food Justice
Ethics and animals
Recent Publications and Presentations
Books
Articles
"Ethical Rules and Particular Skills," Childhood & Philosophy, Vol. 11, No. 2 (2015): 67-79;
"Rewriting the Call to Charity: From Food Shelf Volunteer to Food Justice Advocate," Journal of Agriculture, Food Systems, and Community Development, Vol. 5, Issue 2/Winter 2014–15: 71–80;
"Fables and Philosophy," Teaching Ethics, 15:1 (fall 2014): 71–81;
"Learning to See Food Justice," Journal of Agriculture and Human Values, Vol. 31, No. 2 (Summer 2014).
Book Chapters
"Obesity and Responsibility." In Oxford Handbook of Food Ethics, edited by Barnhill, Anne, Mark Budolfson, and Tyler Doggett, 614–633. Oxford: Oxford University Press, 2018.
"Breaking the Rules of Respect." In Respect: How Do We Get There? A Philosophical Inquiry, Dixon, B. and List, C. Eds. Marsal, Eva, Barbara Weber, and Susan T. Gardner. Lit. Publisher Munster, Berlin, Wien, Zurich, 2013.
Awards
Non-stipendiary Fellowship, Poynter Center for the Study of Ethics and American Institutions, Indiana University, fall 2012
SUNY Chancellor's Award for Excellence in Teaching (2009)