Jump to Footer
Dr. Stuart Voss
---
Distinguished Service Professor of History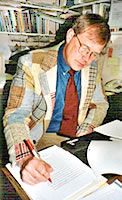 I approach history from a more wholistic perspective, trying to understand the way the various "themes/fields" interact and interconnect.
In the classroom, I employ extensive role-playing and creation of historical families to help the students see the history they are studying from different perspectives and see that history more in relation to their own lives (why they choose to focus on some portions of that history and not others: what that says about them, living in the history of their own present).
Education
Ph.D., Harvard University. Specialization: Latin American History
B.A., B.J., University of Missouri. Specialization: History and Journalism
Teaching Areas
Colonial, middle, and modern Latin America
Colonial United States
Medieval Spain
U.S. survey to 1877
Research Areas
Latin American regional and family history
Latin America in the Middle Period
Recent Publications
Latin America in the Middle Period, 1750-1929, (Wilmington, DE: Scholarly Resources, 2002).