Jump to Footer
Dr. Douglas Richard Skopp (1941–2018)
---
On May 27, 2018, the History Department and Plattsburgh community lost a truly great and inspiring colleague, teacher, and friend, Professor Doug Skopp.

A second-generation American born in Alameda, California, on June 11, 1941, Doug learned from and emulated his immigrant grandparents who had faced countless hardships, but cherished the hopes and dreams of so many immigrants to this country.
Doug's maternal grandmother Rosa emigrated about 1907 from Odessa, Russia, where pogroms had recently terrorized the Jewish community. Arriving at Ellis Island at the young age of sixteen, she, like immigrants before and after, sought to escape her homeland's oppression and find a better life for her future children. In America, however, she immediately fell victim to swindlers who stole every cent she had.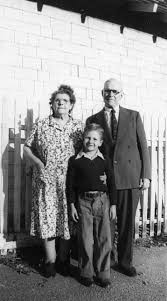 Rosa married Zigman (Sigmund) Fisher, an emigrant Romanian shoemaker, and they settled in Los Angeles. In late 1941, they were joined by their daughter Dorothy and her six-month-old son Doug after her husband Harry joined the navy. Doug's parents soon divorced, leaving his maternal grandparents a major role in raising and educating him as an observant Jew. As Zigman succumbed to blindness, Doug became his eyes and hands. Empathy became one of Doug's lifelong traits. Like many struggling immigrants who work and live in the same space, he remembered sleeping in his grandfather's showroom window at night. Doug's Jewish identity was sharpened as he heard stories of the thirty relatives who had died during the Holocaust. He experienced firsthand the antisemitism of Los Angeles, where he attended Benjamin Franklin High School.
Buffeted by that antisemitism, he countered with what would become a lasting strategy: confront evil and wrongdoing with courage, perseverance, and optimism.
At the age of seventeen, Doug went east to New Hampshire and matriculated at Dartmouth College, where an upper-class antisemitism still raised its ugly head. Frustrated by the cultural shock, he quit Dartmouth after two years and traveled to Germany, which in 1960 was still recovering from World War Two's destruction and trauma. Living for two years with a family that had saved Jews during the war, he worked at their orchard and attended the Albert‑Ludwigs‑Universitaet Freiburg in 1960-1961.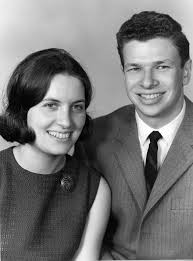 While teaching the English language in southern Germany, Doug befriended Evelyne Schaudt, who was a native-born German, a few years older, and studying to be a foreign‑language secretary. They briefly courted, but Doug was only nineteen and he returned to the States. Amazingly, he found passage home on a trans-Atlantic freighter, working as a short-term sailor. Finishing his B.A. in History at Dartmouth in 1963, in a whirlwind of activity, he married Evelyne in Tunbridge, Vermont, completed a medieval studies master's degree in 1964 at Connecticut College in New London, Connecticut, and then taught courses in European civilization, sociology, and social problems from 1964 to 1967 at nearby Mitchell College. As important, Doug and Evelyne also welcomed their son Andrew into the world.
As Andrew would later recall, his father taught him and his students that, in order to create a more just world, we all should be ready and willing to challenge unjust authority. At the height of the Vietnam War and the nuclear arms race, for instance, Doug regularly protested against a Connecticut arms manufacturer across the river from Mitchell College.
In 1967, Doug matriculated in the Ph.D. history program at Brown University in Providence, Rhode Island. Specializing in modern Germany, the history of education, and medieval Europe, he was awarded a doctoral degree in 1974.
Doug had already joined the History Department at the State University of New York College at Plattsburgh in the fall of 1972. Thoroughly committed to SUNY's educational mission, he regarded teaching as a means to build a better and more humane world. That commitment was evidenced not only by the thousands of students who, to this day, remember his caring and professional hand in their maturation and training, but also by his receipt of the Chancellor's Award for Excellence in Teaching (1985) and his designation as a Distinguished University Professor of Teaching (1994).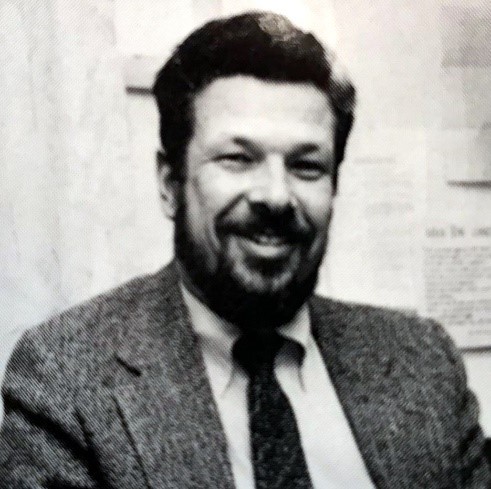 Teaching was Doug's number-one priority, but he also was an early proponent of the History Department's current Teacher-Scholar Model. In 1985-1986, for example, Doug was honored with a Fulbright award as a teacher/scholar and guest professor at Universitaet Hannover (West Germany). While there, he began a critically important study of the Nazi doctors who managed Hitler's abominable science programs and death camps. Doug returned home, optimistically, to write a history monograph, only to see psychohistorian Robert Jay Lifton soon produce an all-too-similar study. Undeterred, Doug redirected his project to research and publish, after almost a quarter-century of difficult labor, the novel Shadows Walking. With its wide-ranging research, probing look at the doctors' thinking, and attempt to explain the unexplainable, Shadows Walking is a one-of-its-kind effort.
So as to better the teaching environment and our students' success, Doug also became active as a campus leader. While serving ten years as chair of the History Department, he was often humorously greeted in the morning by fellow historian George Pasti as "our fearless leader." Yet Doug did speak truth to power. Whether it was as president of the local chapter of United University Professions, which represented faculty statewide, or as presiding officer of the SUNY Plattsburgh faculty, who articulated faculty concerns to larger communities, Doug increasingly regretted the deleterious changes, which began in the 1980s, that were undercutting the state's support for higher education. As he watched SUNY gradually shift from being a state-funded to a state-assisted institution, he worried about issues that are at the forefront of today's education debate: accessibility, affordability, quality, and diversity. As a campus leader, Doug also fought administrators who, as the faculty widely believed, usurped power, mismanaged priorities, and harmed the college's good reputation. In his role as campus leader and historian, Doug's love for the institution further led to his researching and authoring the institution's centennial history, Bright with Promise (1989). As far as he was concerned, he never wanted to see that light dimmed.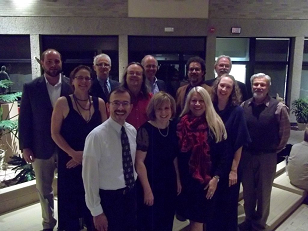 Sadly, his own life dimmed after his retirement in 2006. Diagnosed with kidney cancer in September of 2008, he refused to accept the prognosis that he had, maybe, six months to live. Fearlessly, he took every imaginable step–medically, socially, spiritually–to bolster his chances and to live life as fully as possible. Along with Evelyne, he poured more time and energy into college efforts designed to raise historical awareness. Those included the Doug and Evelyne Skopp Memorial Holocaust Gallery, the Douglas R. Skopp Endowment for the History Department, the Skopp Competition on the Theme of the Holocaust, and the Institute for Ethics in Public Life. In the midst of his efforts, he acknowledged, "I know more than ever before that every day is a gift for all of us."