Jump to Footer
Dr. Vincent Carey
---
Professor of History
Chair of Sport & Wellness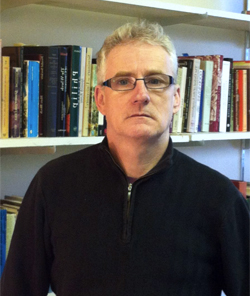 My current research project is a book on atrocities and atrocity literature in early modern Ireland. It is tentatively titled, Atrocity, History and Memory: Ireland in European Perspective.
Education
Ph.D., State University of New York at Stony Brook, 1991. Specialization: History
M.A., National University of Ireland, Maynooth, 1985. Specialization: History
Diploma: National University of Ireland, Maynooth, 1983. Specialization: Education
B.A., National University of Ireland, Maynooth, 1982 (with Honors). Specialization: History and Geography
Teaching Areas
Social history of early modern Europe.
Colonialism and European expansion in the early modern world.
Intellectual history: humanism, reformation and the renaissance.
Sixteenth century Ireland.
Tudor England.
Research Areas
Ireland in the sixteenth century.
Renaissance influences on early modern English colonialism.
Early modern English literature on Ireland.
Early modern Europe.
Recent Publications
"'As lief to the gallows as go to the Irish wars': Human Rights and the Abuse of the Elizabethan Soldier in Ireland, 1600-1603," History 99 (July, 2014), 468-86.
"'What's Love Got to Do With It': Gender and Geraldine Power on the Pale Border" in Thomas Herron and Michael Potterton, eds., Dublin and the Pale in the Renaissance (Dublin: Four Courts Press, 2011), 93-103.
"Elizabeth I and State Terror in Sixteenth Century Ireland" in Donald Stump, Linda Shenk and Carole Levin, eds., Elizabeth I and the 'Sovereign Arts': Essays in Literature, History, and Culture" (Tempe, AZ: Medieval and Renaissance Texts and Studies), 2011, 201-216.
"Icons of Atrocity: John Derricke's Image of Irelande" (1581) in Allison Kavey, ed. World Building and the Early Modern Imagination (New York: Palgrave Macmillan, 2010), 233-254.