Jump to Footer
K. Don Dasitha Gunaratne, Class of 2008
---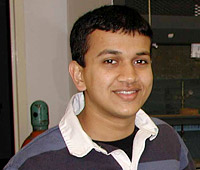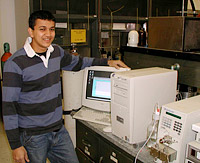 Don is from Sri Lanka. He originally came to SUNY Plattsburgh with the idea that he would stay a year or two to get acclimated to the U.S., and then transfer to a larger university to finish his degree. After about a year, he decided to stay at SUNY Plattsburgh. He liked the friendly, relaxed atmosphere in the Chemistry Department, and at SUNY Plattsburgh in general. When asked to summarize his feelings, Don says: "There's a sense of community between the students and faculty at SUNY Plattsburgh. You get to know the faculty personally, and not just formally."
Don worked on research with Dr. Fotis Nifiatis of the Chemistry Department, and presented the results of his research entitled: Synthesis, Characterization and Photophysics of Halogenated Porphyrins, at the 59th Annual Eastern Colleges Science Conference at Central Connecticut State University.
Don is interested in pursuing a career in chemistry and is interested in polymer synthesis or the characterization of porphyrins and their synthesis. He was accepted by both RPI and Texas A&M to pursue graduate studies.
When asked what other things he liked at SUNY Plattsburgh, Don smiles and notes that "I learned to ski!", but most important: "I made friends for life."
Good luck Don. We miss you.