Jump to Footer
Angela Pacherille, Class of 2018
---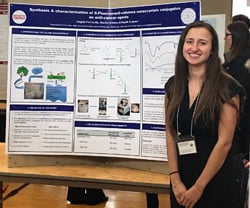 Graduate studies in chemistry (Ph.D.), Syracuse University
B.S. in Biochemistry, Minor in Mathematics, SUNY Plattsburgh
Vice-President, SUNY Plattsburgh ACS Student Chapter
Angela is a native of Herkimer, N.Y. While a student in the Department of Chemistry, Angela was the recipient of numerous awards including the Hudson Scholarship in Science and Mathematics and Presidential Award for Student Excellence. She was also the vice-president of the SUNY Plattsburgh ACS Student Chapter and coordinated a number of chemistry related events. She was extensively involved in hands-on research activities and completed her honors thesis project under the supervision of Dr. Rajesh Sunasee working on the development of novel cellulose nanocrystals based anti-cancer agents. She will be a co-author of two manuscripts currently under preparation. She worked as a summer research student in Dr. Rajesh Sunasee's laboratory for the design of cationic cellulose nanocrystals as potential vaccine adjuvants. Her excellent academic achievement and a passion for organic chemistry led her to secure a graduate scholarship for her Ph.D. in chemistry at Syracuse University starting in fall 2018.
Nana Danyansah, Class of 2016
---
Cosmetic Chemist
B.S. in Chemistry, SUNY Plattsburgh
President, SUNY Plattsburgh Chemistry and Biochemistry Club, 2015–2016
"My time at SUNY Plattsburgh's Chemistry department was inspirational. As a kid who lived in the Bronx most of his life, I didn't know what to expect from attending SUNY Plattsburgh. Two of chemistry department's wonderful professors, Dr. Rajesh Sunasee and Dr. Karina Ckless, counseled and helped me every step of the way. I worked closely with them on different projects and issues I had as a student. Eventually, I was able to break out of my shell and expand my comfort zone and even became the president of the Chemistry and Biochemistry Club at SUNY Plattsburgh. I currently work as a cosmetics chemist for an ODM company based in N.J. and working on obtaining my master's in a cosmetics/pharmaceuticals program. None of that would have been possible without the help of my professors and peers at SUNY Plattsburgh's chemistry department."
Oghale Obaro-Best, Class of 2016
---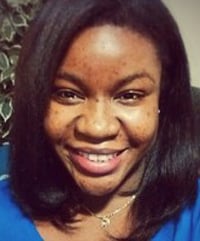 First year medical student, Upstate Medical University
B.S. in Chemistry, SUNY Plattsburgh
Vice-President, SUNY Plattsburgh Chemistry and Biochemistry Club
Oghale, a native of Nigeria who was raised in Bronx, N.Y. During her time in the Department of Chemistry, she was a teaching assistant for Instrumental Analysis, Organic and Analytical Chemistry laboratories. She also worked as a Chemistry and Mathematics tutor and was the Vice-President of the Chemistry and Biochemistry club. She completed her honors thesis project under the supervision of Dr. Rajesh Sunasee, working on the development of new reaction methodology where she was the first co-author of a peer-reviewed publication in the journal of Synthetic Communication. After graduating from SUNY Plattsburgh, Oghale continued her work as a paraprofessional for the New York City Department of Education. She then worked as Research Study Coordinator for Albert Einstein College of Medicine at the Children's Hospital at Montefiore from 2016–2018. She is currently a first year medical student at Upstate Medical University.
"My time at SUNY Plattsburgh was filled with challenging experiences that shaped the young woman I am today. Coming from an underserved community with minimal guidance to higher education, I knew I had to take every opportunity that came my way. Thankfully, at Plattsburgh I was able to do just that and more. I certainly believe that my experiences both during and post Plattsburgh helped me gain acceptance to medical school. I am proud to be an alumnus of SUNY Plattsburgh and look forward to one day serving disadvantage communities as a physician."
Erinolaoluwa Araoye, Class of 2015
---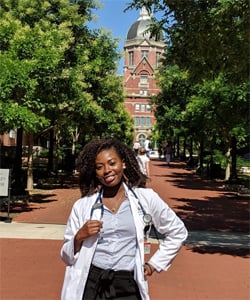 Third year medical student, Johns Hopkins School of Medicine
B.S. in Biochemistry, SUNY Plattsburgh
Treasurer, SUNY Plattsburgh African Unity Club
Erinola is originally from Lagos, Nigeria. While a SUNY Plattsburgh student, she received several awards, including Yale Clark Award and Research undergraduate Award. Erinola was also very active in the academic community where she was a Treasurer of African Unity club and a peer tutor of Chemistry, Biochemistry at the J. Clarke Learning center for 2 years.
In addition, Erinola had a remarkable engagement with undergraduate research where she co-authored a peer-reviewed paper in the scientific Journal Biochemical Biophysical Reports and also first author paper in the Journal of Young Investigators. She also presented her undergraduate research work at regional and national conferences, including American Chemistry Society (ACS-NNY chapter) and Redox Biology Society, respectively. She is currently in her third year as medical student at Johns Hopkins School of Medicine, where she received the Paul. S Lietman International Scholarship, JHUSOM.
"Studying biochemistry at SUNY Plattsburgh was very instrumental in the path to reaching my professional goals. I believe my education as a biochemistry major gave me a solid background in the science I needed to pursue medicine. In addition to classroom learning, I also was able to participate in research in the Ckless lab. In retrospect, this decision to get involved in a research lab was one of the better decisions I made for my career during my undergraduate degree. That exposure to science and research helped me to develop critical thinking skills and provided an environment where I could work as part of a team and build confidence in voicing my ideas"
Brittany (Hinkle) Holzmann, Class of 2013
---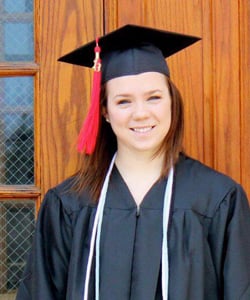 Graduate studies in biotechnology, Johns Hopkins University
B.S. in Biochemistry, SUNY Plattsburgh
Brittany was a teaching assistant for biochemistry for two semesters and after graduation, she pursued career as a scientist in the corporate sector. Currently, she is a stability coordinator at Regeneron Pharmaceuticals, Inc. and she is studying at Johns Hopkins to get a master's in biotechnology.