Jump to Footer
Dr. James D. Armstrong
---
Distinguished Teaching Professor of Anthropology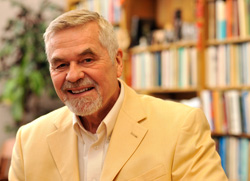 Dr. Armstrong is a Distinguished Teaching Professor of Anthropology. Over the years he has involved a number of students in his research and sponsored student research that has produced papers presented at SUNY Plattsburgh Showcase and the Northeastern Anthropological Association Meetings. Every year he takes interested students to these meetings to expose them to professional anthropology.
Armstrong is an avid, but somewhat decrepit, athlete who keeps busy playing basketball and coaching elementary school level sports in the local community.
Education
Ph.D. in Anthropology, University of California, Riverside
M.A., University of California, Riverside
B.A., Long Beach State University
Teaching Areas
Israeli culture
Sexuality
Methods
Global problems
Research Areas
Extensive fieldwork on identity and social organization in modern-day Israel
Publications
2006 Review essay of Our Hearts Invented a Place: Can Kibbutzim Survive in Today's Israel? by J. Mort and G. Brenner. In Israel Studies.
2006 Homophobic Slang as Coercive Discourse Among College Students. In Language and Linguistics in Context. H. Luria, D. Seymour, & T. Smoke, Eds. Pp.219-226. Mahwah, NJ.: Lawrence Erlbaum.
2001 2000 Non-Paradigmatic Israeli Wars and the reMaking of Israeliness. In War and its Uses: Conflict and Creativity. J. Kleist and B. Butterfield, Eds. Pp. 89-102. New York: Peter Lang.
2001 Distant Mirrors: America as a Foreign Culture. Belmont, CA: Wadsworth Publishing Co. Expanded 3rd Edition. (Co-edited with P.R. DeVita).