Jump to Footer
Writing Tutoring
---
Learning Center writing tutors are students of all majors who are here to support you while you develop your ideas, learn how to cite your sources, discover revising strategies and point you in the right direction on picking a topic. You don't even have to bring in a paper — you can bring in questions about grammar or theses, presentations, lab reports and beyond.
Make an appointment through Cardinal Star
Meet Some of the Writing Tutors
---
Name: Grae (Gabriella) Stipano
Pronouns: They/Them/Theirs
Area of Study: English Language Arts
Favorite punctuation mark: The noble semicolon
The greatest TV show on the planet is: Fullmetal Alchemist: Brotherhood
Hobbies: Reading (most recent book: "So You Want To Talk About Race"), watching anime (most recent series, Jujutsu Kaisen) and drawing (most recent piece, a mushroom with legs).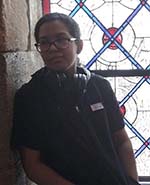 Name: Laura Batista
Pronouns: She/her/hers
Area of Study: Studio Art
Favorite punctuation mark: the comma, so simple, so versatile
The greatest TV show on the planet is: I have no clue, I go through phases! BoJack Horseman's really good. Hadestown makes me weep.
Hobbies: Walking, listening to podcasts and musicals, cooking and binge-watching whatever currently piques my interest!
Writing Tutoring Quick Links