Jump to Footer
Writing Tutoring
---
Learning Center writing tutors are students of all majors who are here to support you while you develop your ideas, learn how to cite your sources, discover revising strategies and point you in the right direction on picking a topic. You don't even have to bring in a paper — you can bring in questions about grammar or theses, presentations, lab reports and beyond.
Make an appointment through Cardinal Star
Meet Some of the Writing Tutors
---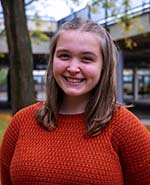 Name: Nina Serafini
Pronouns: she/her/hers
Area of Study: English writing arts, language arts, and literature
Favorite punctuation mark: The colon: For when you have more to say but, lord, that is going to be a run-on sentence.
The greatest TV show on the planet is: Everybody Loves Raymond or Cheers, simply cannot pick between the two. They're my comfort shows.
Hobbies: Writing, reading (appropriate, you know, considering my majors), watching football, listening to music, obsessively planning and organizing everything I can in my life (you know, just the basics).
Name: Theresa Hyland
Pronouns: She/her/hers
Area of Study: History and education
Favorite punctuation mark: The period.
The greatest TV show on the planet is: Downton Abbey
Hobbies: Crochet, music, movies, taking care of my budgies, various nerdy pursuits
Writing Tutoring Quick Links