Jump to Footer
Policy and Procedure Basics
---
PLEASE NOTE: THIS PAGE IS CURRENTLY UNDER REVIEW
As a campus, SUNY Plattsburgh believes that good policy is critical to achieving institutional goals. This page details some basics about the policy framework at the College.
What is a policy? What is a procedure?
A policy is formally documented statement of principles and expectations used to direct decisions and guide behavior on a specific topic or area. Policies:
Support compliance with applicable laws, rules, and regulations;
promote operational efficiency and consistency;
reduce organizational risk; and
enhance SUNY Plattsburgh's mission, vision, and values.
Policies must be consistent with applicable laws, rules, and regulations and be officially approve through the appropriate policy review process.
A procedure is a written document outlining the steps necessary to implement a policy. Procedures specify how processes should be completed, and include information on who, what, when, where, and how of the policy. Procedures must be consistent with all applicable policies and may be updated by their owners, as needed, to ensure that they remain current.
When in doubt, remember - policies are guiding principles that generate action. Procedures are the steps taken to implement the policy.
Who is authorized to create policy?
As a member of the State University of New York ("SUNY"), SUNY Plattsburgh is subject to system-wide policies and can create our own local policies.
Within the SUNY System ("University"), all powers of the University, including the powers to adopt policy and to adopt procedures, are vested in the Board of Trustees. The Board may delegate to the Chancellor and others, by resolution, both the power to adopt policy and create related procedures. The Board is solely responsible for approving System-wide policies.
Article IX Title A of the SUNY Board of Trustees Policies delegates responsibilities to the College President. These responsibilities include the approval of locally developed policies at campuses like ours. All institutional policies are ultimately subject to approval by the College President.
What is an academic policy and how does it differ from an administrative policy?
At SUNY Plattsburgh, there are two main types of locally developed policies.
An academic policy is a policy related to the student educational program and established under the responsibilities invested in the Faculty by Article X §4 of the SUNY Board of Trustees Policies and the College's Faculty Senate Bylaws.
An administrative policy is any policy that 1) is not an academic policy as listed above, 2) is managed by an administrative office, and 3) meets one of the following descriptions:
Ensures compliance for applicable laws, rules, and regulations;
governs a business transaction; or
provides for the general administration and oversight of the College
A key difference between the two is who reviews the policies. Academic policies are reviewed by Faculty Senate while administrative policies are reviewed by Executive Council. All resulting actions serve as recommendations to the College President who is ultimately responsible for approving a policy action.
Another distinction is where policies are listed. Academic policies are listed in the College Catalog while administrative policies are listed in the Campus Handbook.
Where can I find [insert policy title] policy?
If you are looking for a SUNY System-wide policy, please visit SUNY's policy website.
If you are looking for a local academic policy, please visit the College Catalog.
If you are looking for a local administrative policy, please visit the Campus Handbook.
Still having difficulty locating a policy? If you need further assistance locating a policy, please contact Management Services at (518) 564-2539 and we will be happy to assist you.
Who writes these policies? Who is responsible for their content?
All administrative policies have a policy owner. Management Services is responsible for assigning an owner to each policy as part of the approval process. The owner is responsible for writing content for the policy, ensuring that policies are accurate and current, and answering questions about the policy. Typically, the owner is the department that has responsibility for the area associated with the policy. Management Services provides technical assistance to policy owners and is responsible for managing the content of the policy webpage.
Each administrative policy has an owner assigned on the specific policy's webpage.
I have questions about [insert policy title] policy. Who do I contact?
All SUNY Plattsburgh administrative policies have a policy owner assigned. Please contact that department for more information about the policy.
[Insert Policy Name] is no longer accurate. What should I do?
If you are not the policy owner, please notify the appropriate policy owner. If you are the policy owner, you will need to revise the policy in accordance with the College's policy guidelines. Learn more about our policy development process.
What is the policy template and where do I get it?
All administrative policies are required to conform to the institutionally approved template. This ensures that critical information is collected and ensures consistency in our policymaking process. While some policies are not in the template as they were developed before its implementation, revisions to such policies must adhere to the template.
What is a policy number? What does it mean?
All administrative policies are assigned a policy number by Management Services. This number is used to identify the policy. The policy number identifies the section of the Campus Handbook, the location of the policy within that section, the number of major revision, and for procedures or forms there will be a suffix with that letter.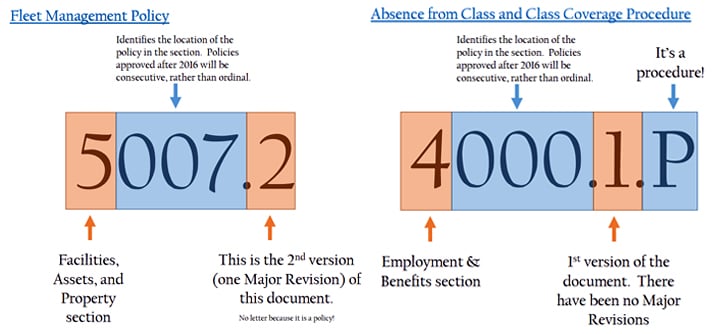 Download our guide to naming conventions (PDF file size 109 KB)
Learn more about the Campus Handbook and administrative policies