Jump to Footer
Securing the Financial Future of SUNY Plattsburgh
---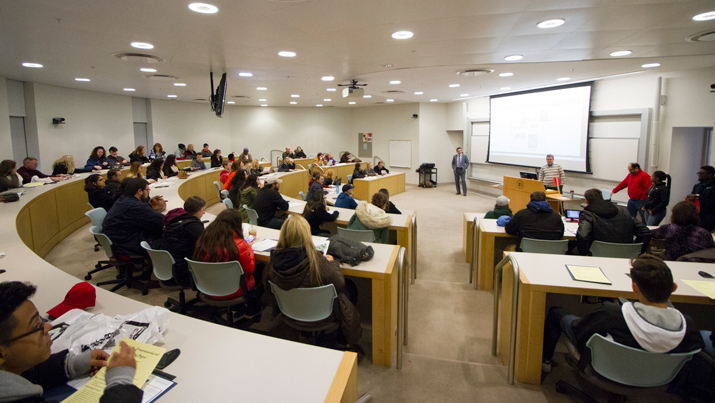 When the Plattsburgh Normal and Training School first opened its doors in 1890 enrolling a handful of teacher education students, no one could have imagined that 125 years later the seed that was planted would blossom into the vibrant community of teaching and learning that we have today.
Our success has not been an accident; it has resulted from good decisions made by our predecessors working together as a community and committed to a set of shared values.
In our history as a community, we have faced periods of significant challenge. In 1929, the Plattsburgh Normal School for Teaching main building burned to the ground. Surveying the damage caused by such a devastating loss could have caused them to lose hope and abandon the institution as a lost cause. But, we stand here today as a proud comprehensive college within the SUNY System because they did not shy away from the challenge.
One of these times is now. Over the past few years, this campus, like many other SUNY institutions, has seen its enrollment decline. At the same time, state support for higher education continues to decline. We are facing a significant budget shortfall that requires action now if we want to ensure that those who follow in our shoes can continue the good work that we do.
In response to this challenge, the College has developed a Financial Stability Plan that will help us to achieve our goals of financial stability by Fiscal Year 2021-22. To achieve this plan, we will need to tap into the collective experience and intelligence of all members of our incredible community. As a community, we will need to engage in hard conversations and make tough decisions to achieve our financial goals.
For over 125 years, SUNY Plattsburgh has been providing a transformative education to our students. Our 60,000 alumni can attest to the difference that this institution made in their lives. Like those who came before us, we can rise to the challenge and in doing so sow the seeds for our future success.
We invite you to learn more about the College's Financial Stability Plan by taking the following steps.